P5+1 eases nuclear demands on Iran, offers sanctions relief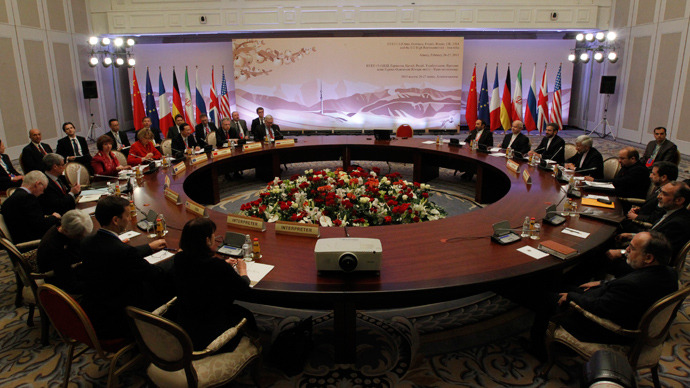 Negotiations between Iran and the P5+1 nations ended with offers of eased demands on the Islamic Republic. While it's a good start, experts say, the crippling US sanctions on the country are unlikely to be changed as they are written into American law.
A new proposal finalized during the Wednesday meeting in Almaty, Kazakhstan would require Iran to suspend - but not completely close down - operations at its underground uranium enrichment facility in Fordo. It would also create a set amount of 20-per-cent-enriched uranium for Iran to stockpile.
The offer marks a new turn in the long term of negotiations between world powers and Iran, which previously had made stark demands on the Islamic Republic. The P5+1 - the United States, Russia, France, Britain, China and Germany - are now only asking for scaled down operations in Iran's nuclear program, which some governments allege is aimed at developing a nuclear bomb.

Iran would also now be able to keep enough enriched uranium to produce medical isotopes at a research facility in Tehran.

The group asked Iran to allow International Atomic Energy Agency monitors to visit its facilities more often in exchange for the suspension of selected current sanctions and a moratorium on new ones.
However, Hillary Mann Leverett, CEO of Strategic Energy and Global Analysis, a Washington-based political risk consultancy, told RT this part may be only an empty gesture.

"Everyone knows the United States has very little that it can give on sanctions," she said. "President Obama essentially ceded his foreign policy on this issue to the US Congress; almost all of those sanctions are written into US law. They are not something President Obama can give away."
In any case, the European Union's embargo on Iranian oil was not brought up for negotiation at the meeting, though the P5+1 would reportedly consider easing restrictions on Iran's gold and petrochemicals trades, as well as those on its banks.
But, after all, it may not matter in the long run, Mann Leverett told RT. "There's not much the US can give on sanctions, and in the meantime Iran is becoming more and more self-sufficient in a range of issues so that it's not vulnerable to such sanctions."
Said Jalili, Iran's chief negotiator at the meetings, called the talks "positive" in comments to the press in Almaty. He added that some of the offers coming from Western governments looked "more realistic than those presented in the past and made an effort to approach the positions of Iran."
Mann Leverett explained what Jalili might have been getting at: "The critical issue for the Iranians, and I think this is where they perceived a slight - and I stress slight - movement on the US side, is in the recognition of their rights: their sovereign and their treaty-based rights to enrich uranium."
Jalili stressed that Tehran saw "no justification" for shutting down the Fordo facility.
Next, Iranian and EU officials are set to meet in Istanbul on March 18 for negotations that will include experts on nuclear technology.

You can share this story on social media: