Chilcot could be sued over Iraq War report findings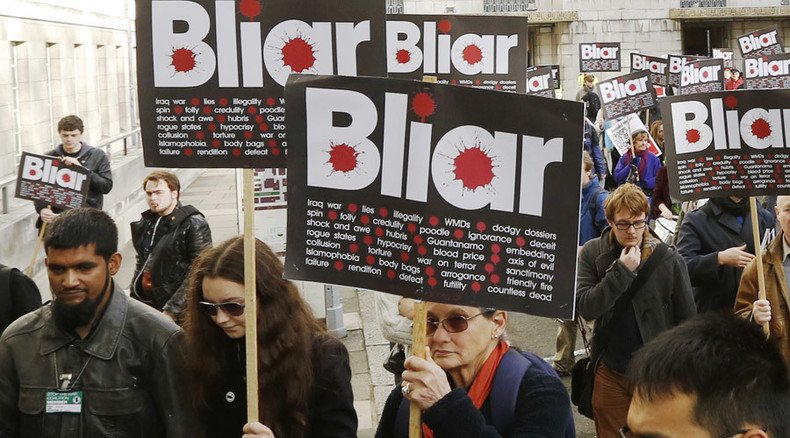 Sir John Chilcot fears a legal onslaught from those who are sharply criticized in his Iraq War Inquiry report and is refusing to be pressured into setting a concrete deadline for its release, a source familiar with the inquiry says.
Chilcot has refused to issue a precise timetable for publishing the report until all those whose actions are examined in its pages are given an opportunity to respond.
In the face of increasing pressure from Downing Street, reports surfaced on Thursday that the ex-civil servant and his panel considered resigning following what they perceive as unjust criticism.
However, a spokesperson for the panel later insisted resignations are not on the table.
Chlcot's report, which is believed to total more than a million words, was initiated in 2009 and last took evidence in 2011.
The Privy Councilor, who headed the inquiry into Britain's role in the Iraq War, had previously hinted delays were due to the 'Maxwellization' process, which offers those criticized an opportunity to respond to allegations levelled against them. He has been sharply criticized for failing to follow the example of other inquiry chiefs by issuing firm deadlines.
Senior legal figures say Chilcot could potentially sanction parties who are delaying the report's release by threatening to reveal their identities in the final draft. But the inquiry chief stated in July he did not believe anyone had "taken an unreasonable length of time to respond."
The head of Britain's armed forces is expected to be among those criticized in Chilcot's report over his conduct during the Iraq War.
General Sir Nicholas Houghton, who serves as Prime Minister David Cameron's top military adviser, is among a slew of senior commanders to face criticism in the report.
Labour leadership frontrunner Jeremy Corbyn says he will publicly apologize for the Iraq War on behalf of the party if he becomes leader in September.
Corbyn confirmed to the Guardian on Friday that he would apologize to Britons for Labour's "deception" in the run-up to the 2003 invasion. He also pledged to apologize to Iraqis for the suffering they in incurred in the 8-year war that followed.

Observers say such an apology would be a watershed moment for Labour, and would mark a significant departure from its foreign policy trajectory in recent years.
Chilcot was publicly criticized by retired High Court judge Baroness Butler-Sloss on Tuesday over the extensive delay to the publication of his report.
Butler-Sloss said she was frustrated the report had not been published while bereaved families await answers as to why Britain went to war.
Her intervention came a day after Labour leadership contender Yvette Cooper said Britain must not pursue further military action against Islamic State (IS, formerly ISIS/ISIL) until Chilcot's report is published.
Who cares what Blair thinks? Iraq war is his legacy. Sooner Chilcot Inq hands down report the better. Shame Rudd sheltered Howard from Inq.

— Christine Milne (@ChristineMilne) August 21, 2015
Families of British troops killed during the Iraq war have launched a legal battle to force Chilcot to publish the findings. The relatives of deceased servicemen say the delay is "morally reprehensible."
Draft reports of the inquiry's findings rattled the British establishment in December, with senior Whitehall officials battling to sanitize its conclusions. Excerpts from the report, some of which are hundreds of pages long, were sent to those whose conduct during the conflict is under scrutiny.
One well-informed source told the Times the report's findings are far more scathing than expected, and had sparked a legal firestorm.
Analysts also warned in 2014 that the omission of potentially crucial correspondence between former Prime Minister Tony Blair and ex-US President George W. Bush raised questions over the Chilcot inquiry's legitimacy. They expressed specific concern over a culture of secrecy in Britain's defense and security service establishment.
Senior figures central to the Chilcot inquiry, including Blair, are expected have their legal fees paid by British taxpayers. Expert analysis suggests the cost of the inquiry could surpass £11 million (US$17.25 million).
LISTEN MORE:
You can share this story on social media: