Anti-Semitic graffiti scrawled on Jewish school in London
Published time: 18 Aug, 2015 16:42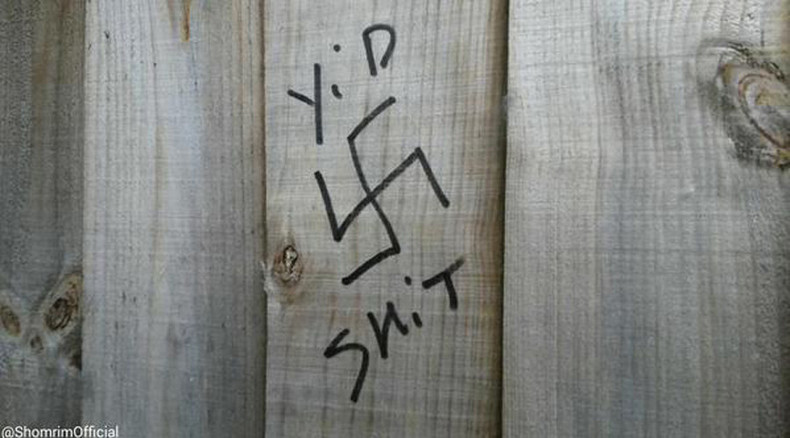 A Nazi swastika was found scrawled on the fence of a Jewish girl's school in East London on Monday.
The words "Yid s**t," alongside the Nazi symbol, were scrawled on the fence outside the Beis Chinuch Lebonos Girls school in Hackney. The racist vandalism was reported to police.
This is the second time the school, which takes children between the ages of two and 16, has been targeted in just over a month, according to Michael Scher from the Stamford Hill neighborhood watch group.
Graffiti reading "Yids out" was removed from the same fence a few weeks ago.
Scher told the Evening Standard: "Targeting a Jewish school with anti-Semitic graffiti is very low – nobody should have to face hate crime of any kinds, especially young children."
The incident is being investigated by the Metropolitan Police as racially aggravated criminal damage. A Scotland Yard spokesperson said no arrests have been made.
The incident comes after the words "f*** the Jews" were scrawled on the gates of Simon Marks primary school, a nearby modern orthodox Jewish school.
READ MORE: Anti-Semitic incidents surge after terror attacks, says Jewish charity
Figures published by Community Security Trust (CST), a charity that monitors anti-Semitism in the UK, shows there was an increase in anti-Jewish incidents in the UK during the first half of the year.
In the first six months of 2015, there were 473 anti-Semitic incidents, a 53-percent rise on the same period in 2014 when there were 309 cases.
The jump in recorded cases has been attributed to heightened awareness of anti-Semitism in the wake of terror attacks in Paris and Copenhagen which targeted Jews.
On Saturday, clashes erupted during a "White Man March" in Liverpool called by neo-Nazi groups. The controversial protest had been banned following a public outcry.
Speaking about the event on Twitter, the organizers said: "We do not stand to oppose the color of a man's skin, we stand to oppose a sick Jewish ideological system."