Murdered ISIS captive David Haines 'did not want ransom paid'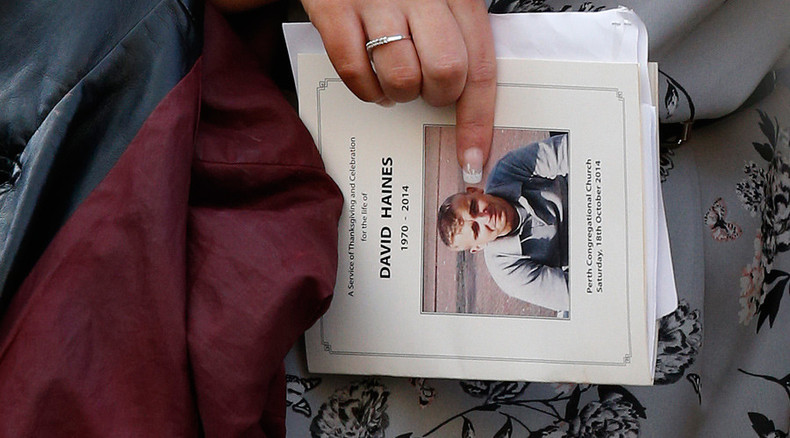 British aid worker David Haines, who was executed by Islamic State (IS, formerly ISIS/ISIL), did not want the UK government to pay the ransom for his release, despite the move putting his life at risk, his brother has said.
Haines was killed in September 2014, 18 months after being captured in Syria where he was delivering aid to the war-torn country.
In an interview with the Press Association for World Humanitarian Day on Wednesday, Haines' brother Mike said he was "haunted" by the images of David's death, but offered his full support for the government policy of non-negotiation with terror organizations.

"David had always said that even if the government was OK with paying ransoms, if a single pound was paid for his release he would have nothing to do with it," he said.
"We looked at every possible option, there was nothing we discounted. But putting money into the hands of terrorists only breeds more. It would make more British humanitarian workers targets.
"David would have felt very, very torn – being able to be free to see his daughters and wife again. But he would have been very unhappy that a ransom had been paid."
Haines' family was initially banned from speaking in public about David's kidnap amid fears it could lead to his death. But his identity was revealed after IS released footage of the execution of American journalist Steven Sotloff.
"My family's mantra had always been to hope for the best and prepare for the worst," Mike told PA.
"We knew there was not a good chance of David coming home. We knew the writing was on the wall."
After David was murdered, the vast amount of media attention only served to exacerbate his family's guilt.
"Everywhere you went the images of David's face … those images in the deep, dark night when I can't sleep, they haunt me.
"But that wasn't 'David.' It was very difficult, in fact impossible, to avoid seeing those images. I have not seen the video and won't any time soon," Mike said.
Mike now works for campaign group Fightback Starts Here, which works within communities to promote peace and tackle extremism.
The coalition has the backing of over 100 charities, faith organizations and community leaders.
"It is not an Islamic question, it is multi-faith and multicultural," Mike said.
"We all want to live in peace, we want to bring our children up in peace and have the freedom to practice our religion. If we let terrorist groups from whatever spectrum have their way that will not happen."
LISTEN MORE: