British woman killed in Bangkok bombing named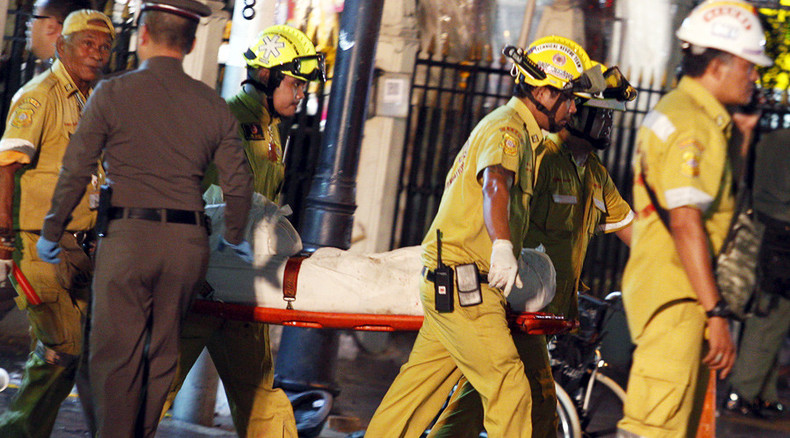 The British citizen who died in the terrorist bomb attack which took place on Monday in the Thai capital, Bangkok, has been named as 19-year-old law student Vivian Chan.
Foreign Secretary Philip Hammond confirmed the Briton, a 19-year-old woman, had died on Tuesday. Chan was a resident of Hong Kong.
Among the dead are nine foreigners. More than 20 people were killed and 120 people injured in the attack on the Erawan Hindu shrine.
Hammond called the bombing "horrific," and said British authorities had offered assistance to Thai police investigating the attack.
Universities where Chan studied paid tributes on Tuesday. The School of Oriental and African Studies (SOAS) at the University of London, where Chan studied law, said in a statement she and a friend had been traveling in Thailand when the attack occurred.
The university said it is "deeply saddened" by the news.
"We understand that Miss Chan, and her friend, was (sic) travelling in Thailand," the statement read.
"We would like to send our heartfelt condolences to her family and friends during this difficult moment."
Chan, who ran a food blog in her spare time, also studied at The BPP University in Hong Kong. BPP said the news was "devastating."
"Vivian [was] a cheerful young lady and has been doing well at our University and we were proud and enjoyed teaching her," it said in a statement on Facebook.
"We express our condolence to the family during this dark day. Vivian would rest in peace. Our wishes, thoughts and love are with the family and ready to support in any way we can. You will always be missed and remembered."
Hammond issued a statement condemning the act of terrorism.
"The loss of life and injury in Bangkok is horrific and I condemn this callous act of violence against completely innocent and unsuspecting members of the public" he said.
"I can confirm that one British national, a resident of Hong Kong, lost her life in the attack. British Embassy staff in Thailand are assisting her family at this very difficult time."
He said his "thoughts are with the victims, their families and loved ones, and with the Thai people."
The Foreign Office is not warning British tourists to avoid Thailand, but has said travelers should check its website for the latest travel advice.
The bomb exploded at 7pm local time (12:00 GMT) on Monday. Police believe the device was a pipe bomb.
No terror organization has laid claim to the attack, but the Thai government said it was designed to disrupt the country's tourist trade.
On Tuesday, Thai police released CCTV footage of the suspect, urging any potential witnesses to come forward with information.
A second explosion on Tuesday did not claim any victims. The device, also believed to be a pipe bomb, was thrown from a bridge into water below.
Colonel Natakit Siriwongtawan, deputy police chief of the Klongsan district, said an unidentified man threw the explosive near a busy pier on the city's Chao Phraya River, and that it landed in a canal.