Not just lefties: Corbyn most popular Labour candidate with entire electorate, says new poll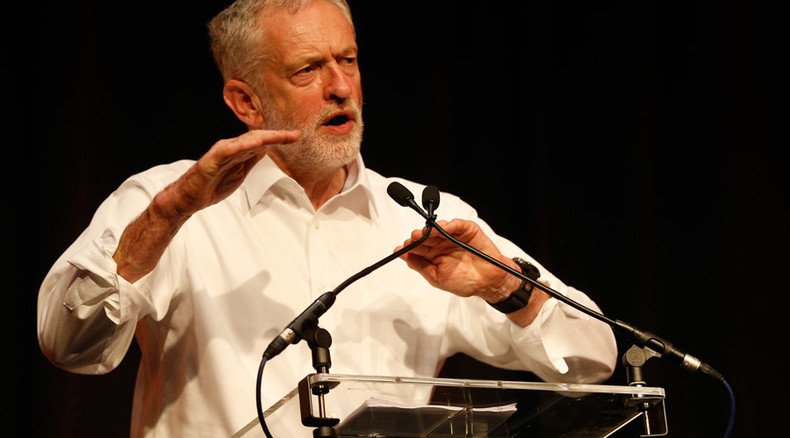 A new poll has refuted his opponents' accusations that prospective Labour Party leader Jeremy Corbyn will lead Labour to electoral oblivion, after it showed that he is significantly more popular than his rivals with a broad cross-section of the public.
The poll, conducted by Survation, showed more than 1,000 people four one-minute videos of the potential Labour leadership candidates expressing their views on a political talk show before interviewing them.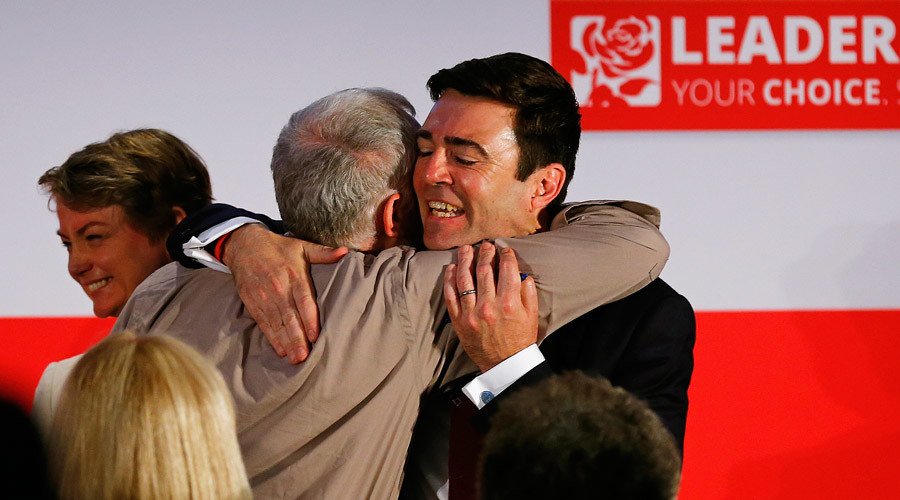 The group said that Corbyn was more trustworthy, more in touch with ordinary people, and more intelligent than the other candidates – Andy Burnham, Yvette Cooper and Liz Kendall. Voters said that these three characteristics were the most important for a political leader.
Twenty-eight percent said the Islington MP would make the best leader of the Labour Party, compared to 25 for Burnham, 15 for Cooper, and 12 for Kendall. The results of the election will be announced on September 12, with Corbyn a hot favorite to win, according to a string of internal and public polls, as well as bookmaker predictions.
Thirty-two percent of the interviewees said Corbyn, who has never held a government post, would make them more likely to vote for Labour in the next election, which is scheduled for 2020. Burnham came in second with 25. The poll was conducted around the same time former Prime Minister Tony Blair penned a Guardian column claiming that electing the 66-year-old Corbyn would result in electoral "annihilation."
Voters thought that Corbyn would be a particularly effective leader for the opposition in parliament, with 31 percent of those surveyed saying he would hold the Conservatives to account, compared to 27 who favored Burnham, and less than 15 favoring the other two candidates.
There was one key question, where respondents did not rank Corbyn top. Twenty-five percent said Andy Burnham would make the best prime minister, while 24 said Jeremy Corbyn would.
Corbyn was not only popular with self-proclaimed Labour supporters, but also with those who said they had previously voted for the populist, anti-EU, UKIP party in May. By contrast, most Tories surveyed agreed with Andy Burnham on key issues.
Following Ed Miliband's resignation in the wake of Labour's May election defeat, Corbyn barely made it onto the leadership ballot, which is determined by fellow MPs, some of whom said they nominated him simply to provide a voice for the left-wing of the party. Since then, however, the backbencher, who was barely known to the general public at the time, has surged spectacularly. This is largely due to new party members signing up to vote, who now constitute two-thirds of 600,000 people that will choose the new leader.
Corbyn has attracted criticism from the centrists in his party, who say his calls for widespread nationalization of key services, unilateral nuclear disarmament, and renunciation of NATO membership, would not play well with the wider electorate.
Yet, as a relative outsider, untainted by government, and unafraid to voice his beliefs, he has captured the imagination of the electorate. A poll of Londoners, conducted by YouGov this week, produced a similar result, with a plurality saying they want Corbyn to lead the Labour Party. That poll also showed him with a broad base of support. He is particularly popular with the young, the well-off, Liberal Democrat voters, as well as UKIP supporters.
You can share this story on social media: