30 skeletons from Great Plague of 1665 discovered in City of London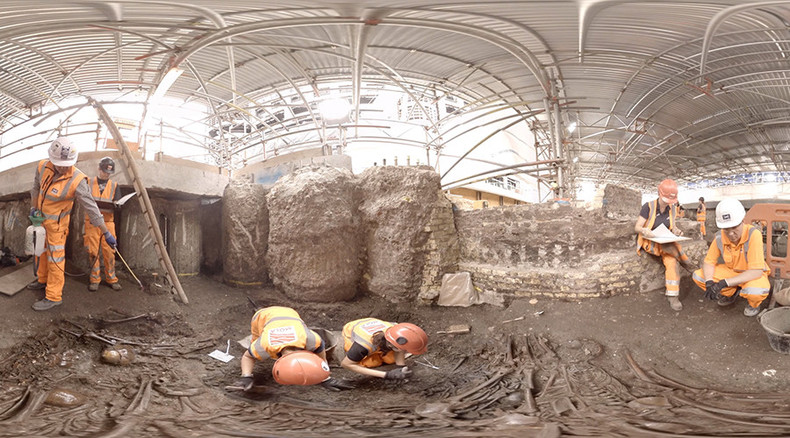 Skeletal remains of 30 people thought to have perished during The Great Plague of 1665 have been unearthed by construction workers in London's financial district.
Railway construction workers discovered the skeletons 350 years after the Bubonic plague engulfed London, as they set about digging up the Bedlam burial ground in Liverpool Street.

A headstone at the historic site marked "1665" was discovered, suggesting that the mass graveyard dates back to the outbreak of the deadly plague across London.

Experts believe the bodies were buried on the same day in individual coffins, which have since rotted away, leaving a mass of distorted skeletons.

The skeletal fragments will now be analyzed by the Museum of London Archeology, which will carry out tests to determine the causes of death.
Crossrail lead archeologist Jay Carver said the railway construction was an opportunity to delve into a period of history that remains a relative enigma.

"The construction of Crossrail gives us a rare opportunity to study previously inaccessible areas of London and learn about the lives and deaths of 16th and 17th century Londoners," he said.

"This mass burial, so different to the other individual burials found in the Bedlam cemetery, is very likely a reaction to a catastrophic event. Only closer analysis will tell if this is a plague pit from The Great Plague in 1665, but we hope this gruesome but exciting find will tell us more about the one of London's most notorious killers."

Experts have previously called the Bedlam burial ground, otherwise known as the New Churchyard, London's most important 17th century cemetery site.

Since work began there earlier this year, more than 3,500 skeletons have been discovered.

The burial site was used between 1569 and 1738, during which there were numerous plague outbreaks. It is estimated some 30,000 bodies have been laid to rest at the site.

Senior osteologist at the museum, Mike Henderson, said the site provided an opportunity to study the plague's effects on the body.

"We hope detailed osteological analysis will help determine whether these people were exposed to The Great Plague and potentially learn more about the evolution of this deadly disease," he said.
Bedlam burial ground was named after the Bethlehem Royal Hospital, which was used to house mentally ill patients from the 13th century onwards.

However, only a small number of the hospital's patients were buried on the site.