Sniff it! NHS approves research on prostate cancer-detecting dogs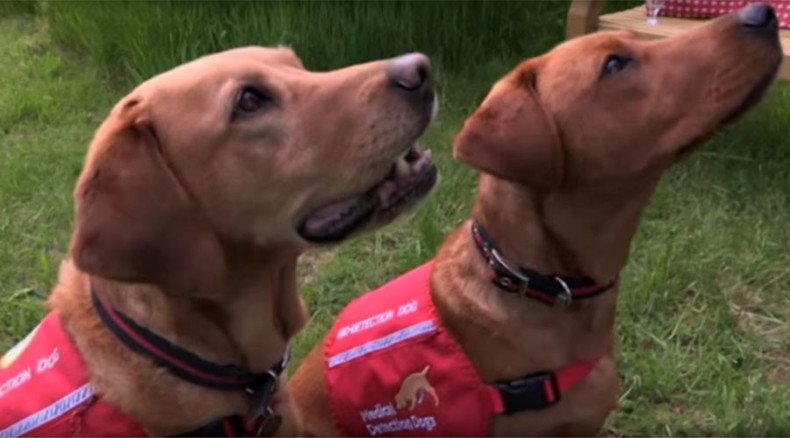 Cancer-detecting dogs are to participate in a trial at a UK hospital, after showing off their amazing ability to identify the of prostate tumors – getting the right answer in 93 percent of cases, according to a recent study.
The trial, a brainchild of the charity Medical Detection Dogs, has been approved by Milton Keynes University Hospital to conduct further research on the special dogs, which have been trained to detect prostate tumors in urine.
READ MORE: Revolutionary 'cancer-killing' radiotherapy scanner to be tested in UK
The traditional Prostate-Specific Antigen (PSA) blood test is used to reveal the need for a biopsy, but it has a high "false positive" rate. Canine testing could help avoid the procedure.
"Over the years there have been many anecdotal reports suggesting that dogs may be able to detect cancer based on the tumor's odor. It is assumed that volatile molecules associated with the tumor would be released into the person's urine, making samples easy to collect and test," Iqbal Anjum, a consultant urologist at the hospital, told The Independent.
The three-year-long trial is set to provide nine dogs with urine samples from 3,000 hospital patients. In accordance with national research, the results of their "analysis" will be compared with traditional testing in order to estimate the efficiency of the untraditional approach.
One of the founders of Medical Detection Dogs, Claire Guest, was been lucky to have been saved by her own dog. In 2009, her pet Daisy made her realize that she was suffering from breast cancer by unexpectedly starting to push her in the chest.
READ MORE: Cancer breakthrough: Kansas researchers testing compound that inhibits tumors
"Our dogs have higher rates of reliability than most of the existing tests. We know their sense of smell is extraordinary. They can detect parts per trillion - that's the equivalent of one drop of blood in two Olympic-sized swimming pools," Claire Guest told The Press Association.
"Britain has one of the worst rates of early cancer detection in Europe. The NHS needs to be bolder about introducing new innovative methods to detect cancer in its early stages," she added. "We should not be turning our backs on these highly sensitive bio-detectors just because they have furry coats."
READ MORE: Most cancer cases pure bad luck, not preventable – study
Similar studies outside the UK also have shown positive results, as last year the success rate in an Italian experiment on 677 samples was 98 percent. Medical Detection Dogs has reported about 93 percent accuracy.
Prostate cancer is the most common form of cancer in American and British men after skin cancer with over 41,700 cases in the UK in 2011.
You can share this story on social media: