Enter the dragon: Komodo lizard arrives at London Zoo (VIDEO)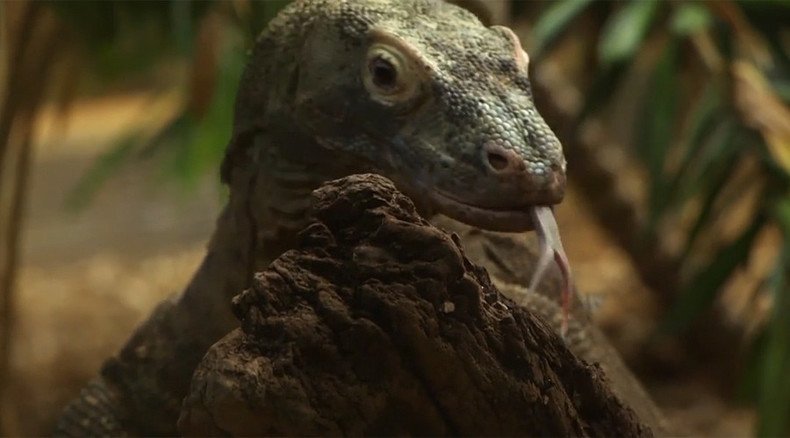 London Zoo has unveiled the latest fearsome addition to its Land of the Giant's exhibition: a seven year old Komodo dragon who has been transferred to the UK from Randers Zoo in Denmark.
Ganas, a 1.75 meter long lizard, will take up residence at one of London's most popular tourist attractions. His name means "fierce" in Bahasa Indonesian.
Komodo dragons are the largest and heaviest lizards in the world. They have been around in the animal kingdom for nearly 40 million years, making them one of the oldest known species.
They can grow up to three meters in length and are able to eat 80 percent of their own body weight in one single feed. The lizards target a range of animals, including wild pigs and water buffalo, by sitting in wait and ambushing their prey.
Usually found in Indonesia, the dragons are named after the island of Komodo. Due to competition for space as humans continue to encroach on their habitat, Komodo dragons are now considered endangered.
Zookeepers in London will try to mimic the feeding patterns of a wild dragon, leaving food in the enclosure for Ganas to sniff out and eat.
Deputy team leader of London Zoo's herpetology team, Iri Gill, said Ganas was an exciting addition to the Zoo.
"Ganas is a really exciting new arrival here at ZSL London Zoo and we're really enjoying getting to know his character. He's really eager to get going when it's time for his training and enrichment here at the Zoo, which involves rewarding him with his favorite snacks when he responds to a target – we use a colored ball on the end of a stick.
"This means that if we ever need to move Ganas to a different area of his enclosure, weigh him, or give him a health-check, he will happily walk to where he needs to be or get on to the scales himself as he knows there's a treat waiting for him at the end," she added.
Visitors can see Ganas in the Land of the Giants exhibit, which already hosts giant Galapagos tortoises and a giant Chinese salamander.
You can share this story on social media: