'Racist': Police urged to question Sun newspaper over Katie Hopkins' migrant column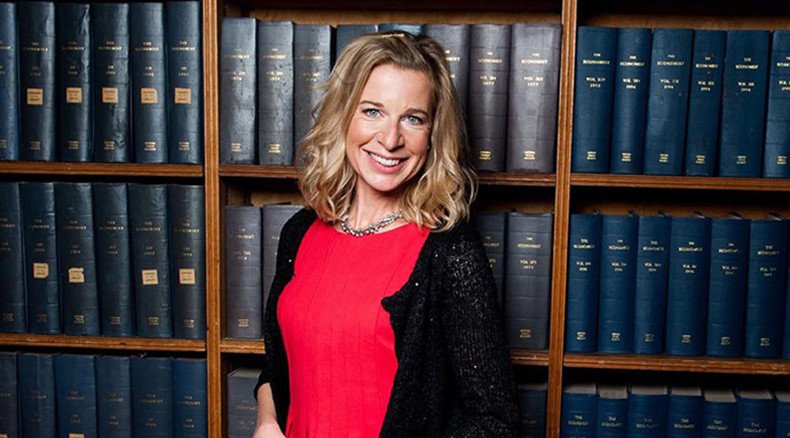 Outspoken media personality Katie Hopkins has been interrogated by police over claims of "racial hatred" in a provocative column she wrote about migrants for the Sun newspaper in April.
Hopkins, 40, was questioned at a central London police station with her solicitor last week over a column in which she referred to Mediterranean migrants as "cockroaches."
The tabloid columnist said she would send "gunships" rather than rescue boats to stop migrants from entering Britain.
Hopkins claimed she "doesn't care if migrants die while trying to leave their countries by boat."
The former Celebrity Big Brother housemate's column sparked outrage on social media and left many furious with Britain's biggest selling tabloid for giving her a platform.
A Scotland Yard spokesman said officers questioned a 40-year-old woman over an article, but did not make an arrest.
READ MORE: Katie Hopkins 'regrets' brutal migrant 'cockroaches' column
"The Metropolitan Police Service received allegations of incitement of racial hatred following an article published in 17th April.
"The Special Enquiry Team of the Homicide and Major Crime Command are investigating.
"On Thursday, 30 July, a 40-year-old woman attended a central London police station by appointment and was interviewed under caution. She was not arrested."
The police probe is understood to be the result of a complaint by the Society of Black Lawyers (SBL).
Shortly after reading the column, SBL Chairman Peter Herbert emailed the police, saying "Hopkins' comments are sadly some of the most offensive, xenophobic and racist comments I have read in a British newspaper for some years.
"These comments comparing the African migrants fleeing Libya to 'cockroaches,' almost certainly all 'trafficked' persons facing intimidation, violence and extortion at the point of departure represent some of the most vulnerable people in international law at the present time," it said.
READ MORE: Sun columnist Katie Hopkins calls for 'ethanasia vans' as Britain has 'far too many old people'
"Many will have legitimate claims for asylum under the 1951 Geneva Convention," it added.
After calling for the article to be investigated Herbert, said: "The propensity for racial violence against people of African descent in the UK is obvious."
Meanwhile, over 300,000 people signed a petition to get Hopkins fired from the Sun newspaper.
Izzy Saunders, 22, who launched the petition, said she does not believe the newspaper "should encourage these poisonous opinions."
"Presenting these extreme views as normal is dangerous and only encourages further demonization of immigrants in our own country," she added.
While many on social media were glad to hear Hopkins had been questioned, others asked why the Sun's news editor had not been interrogated.
Can anyone tell me why Katie Hopkins is being questioned by police but not the editor of the paper who actually printed her column?

— Greg (@gregisnice) August 5, 2015
One Twitter user said: "Can someone tell me why Katie Hopkins is being questioned by police but not the editor of the paper who actually printed her column?"
Another said it's "hard to imagine" what questions the police asked Hopkins as the column was "pure harassment."
The UN's human rights chief Zeid Ra'ad Al Hussein attacked the Sun for publishing the article, branding it reminiscent of anti-Semitic Nazi propaganda.
Thousands of migrants, predominately from the Middle East and Africa, are camping in squalid conditions in Calais while trying to cross into Britain. Since June, nine people have died trying to access the Eurotunnel.
You can share this story on social media: