Police use force to separate pro and anti-migrant rallies at British Eurotunnel terminal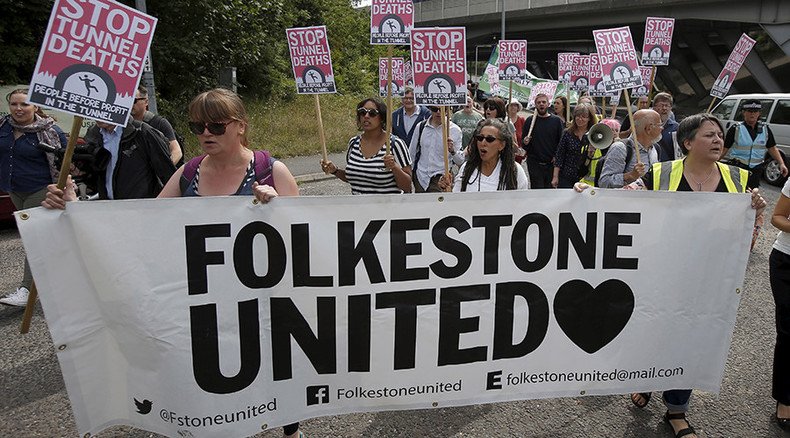 Dozens of pro and anti-migrant demonstrators gathered for rallies near Eurotunnel's British terminal in Folkestone on Saturday. Police used force to disperse the protesters as tensions heated up between the rival rallies.
Activists from the pro-migrant rally organized by the "Folkestone United" held signs "Stop tunnel death," urging the UK government to cooperate with Paris in helping solve the migrant crisis that has engulfed the French town of Calais.
In recent days thousands of immigrants in Calais have been desperately trying to make it through the Eurotunnel in attempts to get to the UK. On Tuesday, a man was killed in the tunnel chaos.
READ MORE: 1 dead after 1,500 migrants storm Eurotunnel in France for 2nd night
"We want migrants to know we stand with them. We want to see a much more positive attitude to migrants," the organizer of a pro-rally told RT's UK correspondent Laura Burdon-Manley.
London has used strong words to characterize the migrant problem. British Prime Minister David Cameron fell under criticism after describing the migrants trying to reach UK soil as a "swarm".
Demonstrators attending the pro-migrant rally in Folkestone disagreed with the government's anti-migrant stance.
"They actually contribute to our economy, they don't take out of our economy," the organizer of a pro-rally argued.
"We want to see the rhetoric the government are using, and the language they choose to use, being made much more carefully, and much greater cooperation with the French government to ensure that the people on the other side in Calais are in a safe situation," she said.
The solidarity rally was countered by two counter-demonstrations by the right-wing group, "Britain First," and the "English Defense League" (EDL). Tensions flared between members of "Britain first" and "Folkestone United." Police used force to keep the members of the rival rallies apart, as a member of the right-wing group reportedly started a fight.
Paul Golding, leader of Britain First, told Ruptly the group came to rally on Saturday for two reasons: to show their "opposition to mass immigration into our small overcrowded country," and "to oppose this gaggle of left-wing traitors," referring to "Folkestone United."
He said that the government should solve the problem of unemployment before accepting migrants.
"We have got three million unemployed in this country, let's put them to work first and then try to deal with the world's poor," he said.
"Everyone is suffering in Britain right now and bringing other people that cannot contribute does nothing – it's unreasonable and unfair," one of the organizers of the anti-migrant rally told RT's Burdon-Manley.
On Saturday, Cameron appealed to President Francois Hollande to join the UK for urgent talks to discuss the situation at the port of Calais. The British PM called the pictures of migrants tearing down fences and hanging onto trucks as they try to enter the Channel Tunnel "unacceptable".
As the migrant situation continues to worsen, Cameron has said that London will contribute by putting up "more fencing, more resources, more sniffer dog teams, more assistance in any way we can in terms of resources."
However, some critics believe that the problem of escalating illegal migration is not only due to lax border control, but existing British labor law as well.
"UK's labor laws are such that employment is possible with or without identification. This is the real reason [for mass immigration problem]. If the British want to get rid of this, they need to change the laws," Xavier Bertrand, a French MP and mayor of northern city of Saint-Quentin, told RT.
READ MORE: British PM urges talks with French president to tackle Calais migrant crisis
You can share this story on social media: