Scotland failing to house half single homeless people – study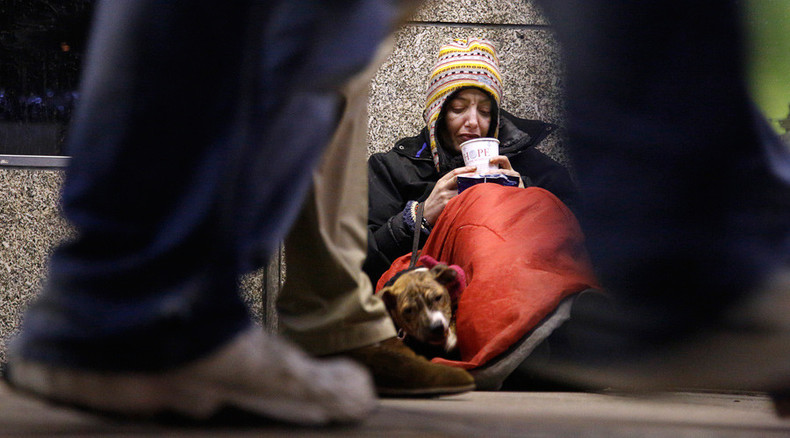 Less than half of "vulnerable" single homeless people in Scotland are found accommodation when they seek help from the authorities, new figures have revealed.
The report by homeless charity Crisis shows that only 47 percent of single homeless people without children receive a tenancy through their local council when they become homeless.
Some 66 percent of families are housed by councils around Scotland.
Single homeless people are often "more vulnerable" and likely to have been previously homeless before, the report said.
They are also more likely to have come from "less secure" accommodation.
When they seek assistance, they receive less help than families "both in prevention interventions when a homeless application is made," the report found.
In a statement, Crisis Scotland director Ann Landels said Scotland "is an international leader to tackling homelessness."
Despite the country's efforts to tackle the crisis, the new research "shows there are still challenges to be faced," she said.
Evidently, single homeless people are "still not getting the help they need" and they face "real inconsistency in the level of support they get, depending on which council they go to for help."
"We are keen to work with local councils to help them overcome the challenges they face supporting people who find themselves homeless."
Report author Peter Mackie said the assistance offered to single homeless people in Scotland "is exceptional when compared to other developed nations and we must recognize this."
The study proves efforts to prevent homelessness are "highly inconsistent" and many single homeless people are "not finding a home when they seek local authority assistance."
"We must look carefully at the services offered by local authorities if we really wish to meet the needs of single homeless people," he added.
The figures follow a recent Scottish government commitment to ending homelessness, and the removal of priority distinctions from homelessness lists.
Previously, single homeless people had to prove that they were particularly vulnerable to qualify for such support.
In July, Shelter Scotland warned that Chancellor George Osborne's budget could create a "homeless time bomb" in the north of Scotland, and force nearly 1,000 young adults aged between 18 and 21 into homelessness as a result of the "catastrophic" Tory welfare cuts.