Send military to tackle Calais migrant crisis, say police chiefs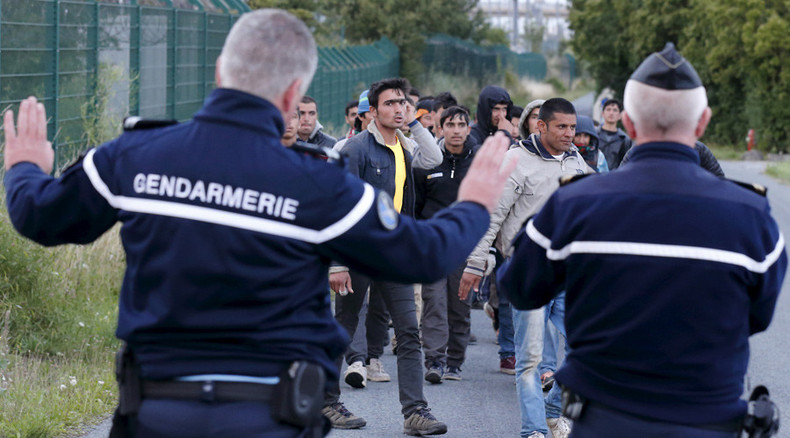 Prime Minister David Cameron is facing calls from senior police chiefs to allow the army to intervene in the ongoing migrant crisis in Calais, after mass attempts to storm the Channel Tunnel resulted in one fatality.
Cameron blamed the crisis on a "swarm" of immigrants crossing the Mediterranean after hundreds of the displaced individuals stormed the Channel Tunnel on Wednesday morning.
Home Secretary Theresa May chaired an emergency COBRA meeting on Wednesday as the operators of Eurotunnel criticized the lack of action from the British and French governments.
READ MORE: EU plans 4-meter high Eurotunnel anti-immigration fence, points to 'major crisis'
Police and Crime Commissioner for Surrey Kevin Hurley said local regiment, the 2nd Battalion of the Royal Gurkha Rifles, should be deployed to help tackle the crisis.
"The Gurkhas are a highly-respected and competent force, and are just around the corner. They could help to ensure that our border is not breached," he said.
The man who died, believed to be a Sudanese national, was reportedly crushed by a moving truck on Tuesday night as the tunnel was stormed.
Speaking in Vietnam as part of his tour of South-East Asia, Cameron said the UK was investigating further security measures at Calais, adding the French authorities had deployed an extra 120 police officers.
READ MORE: 1 dead after 1,500 migrants storm Eurotunnel in France for 2nd night
"This is very testing, I accept that, because you have got a swarm of people coming across the Mediterranean, seeking a better life, wanting to come to Britain because Britain has got jobs, it's got a growing economy, it's an incredible place to live," the PM told ITV News.
"But we need to protect our borders by working hand in glove with our neighbors the French and that is exactly what we are doing," he added.
Nine people have been killed trying to cross the Channel in the past month, Eurotunnel said.
It claimed 2,000 attempts were made to get to the tunnel on Monday, with a further 1,500 on Tuesday evening and Wednesday morning.
It is estimated 148 people had made it to Britain during the week of riots.
"This is not being dealt with by the British and French governments," Eurotunnel spokesman John Keefe said.
"They say they will act to stop the flow of migrants, which we welcome, but we need action not just words."
French Interior Minister Bernard Cazeneuve has also increased tensions between Eurotunnel and the authorities.
Cazeneuve wrote a letter to Jacques Gounon, Eurotunnel president, in which he said: "In my analysis, the Eurotunnel group, which has jurisdiction of the security, hasn't made enough effort in light and proportion to the worsening situation."