'Fame-seeking' celebrities at war with Amnesty over legalizing prostitution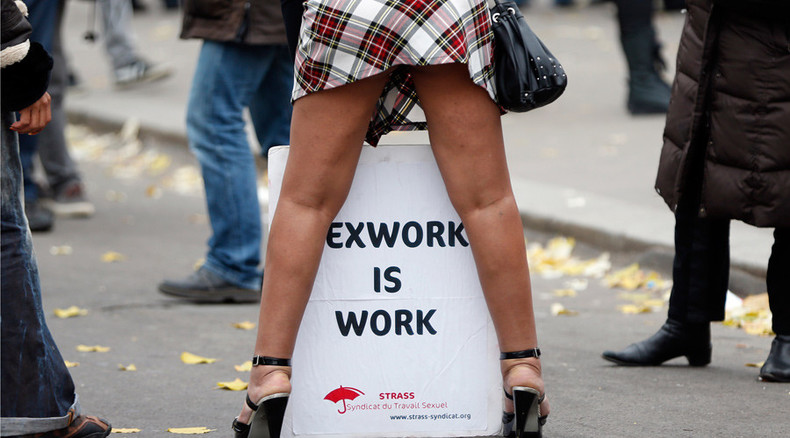 Hollywood celebrities and former sex workers are at war with Amnesty International over the group's proposal to recognize prostitution as a human right.
The London-based human rights organization frequently receives backing from high-profile American celebrities. But Amnesty's controversial 'Draft Policy on Sex Work' proposal, which argues for the decriminalization of prostitution, has not been well received.
The draft policy states that all "consensual sexual conduct between adults – which excluded acts that involve coercion, deception, threats, or violence – is entitled to protection from state interference."

The report, which will be presented next month at an Amnesty meeting in Ireland, says banning the sex trade will lead to "increasing harassment of and violence against sex workers."

It claims ongoing criminalization will add to more "ill-treatment [of sex workers] at the hands of the police."

Oscar-winning actresses including Meryl Streep, Emma Thompson and Kate Right have teamed up with former sex workers and women's rights organizations to condemn Amnesty's idea.
Why aren't all gender, health, equity & prison abolition folks writing Amnesty a letter to support sex workers who fight for rights daily?

— Carol Fenton (@cfpdx) July 25, 2015
In a letter co-signed by Coalition Against Trafficking in Women, urging Amnesty to reconsider its draft policy, Lena Dunham, Emily Blunt, Lisa Kudrow and Anne Hathaway said they are "deeply troubled by Amnesty's proposal."
The letter addressed to the human rights organization leaders reads: "[We are] deeply troubled by Amnesty's proposal to adopt a policy that calls for the decriminalization of pimps, brothel owners and buyers of sex – the pillars of a $99 billion global sex industry."
The charity's reputation would be "severely and irreparably tarnished" if it adopts a policy that sides with the buyers of sex, the letter concluded.

The stars are eager to see more pimps prosecuted under the "Swedish-style policy" for paying for sex.
It's worth noting who *isn't* demanding Amnesty ignore sex workers: LGBT groups. HIV/AIDS groups. Repro health, rights & justice groups.

— Melissa Gira Grant (@melissagira) July 29, 2015
Over a two-year period, Amnesty gathered evidence from UN agencies and interviewed sex workers around the world to find out how to best regulate the industry.

Amnesty say outlawing sex work, even indirectly, will discriminate against prostitutes and force them to work in more dangerous conditions.

Speaking to RT, Northern Irish sex worker Emily Major, who financially depends on her trade, says criminalizing the sex trade will only "put vulnerable sex workers in danger."

"I myself love sex and above all enjoy being in control of my own life, my work hours and what I actually do."

Criminalizing of the trade will only "cause the industry to go underground and make women do unsafe things to ensure they get that extra bit of business."

The celebrities argue decriminalization of the sex trade in Germany has "failed to make sex workers safer" and made trafficking easier.

Sex worker and political campaigner Charlotte Rose told RT that celebrities "don't have the right to judge, as they have never been there themselves."

She said actors "prostitute themselves for their own spotlight on stage" whereas sex workers "do it behind closed doors," claiming that people in her profession "have more dignity."

"It's the human right to earn a living, and if the activities are consensual and do not harm a third party, no one has the right to stick there ore in."

"Any celebrity that states otherwise is just looking for a glorified five minutes of fame under the topic."

Instead, they should "spend their time helping sex workers that want to get out of the industry rather than penalizing the people who enjoy it."

In a statement, Amnesty said sex workers are "one of the most marginalized groups in the world, so it is important that we understand, as Amnesty International, we can support their human rights."

"This is a divisive, sensitive and complex issue and it is important that we get it right. No policy has been adopted by Amnesty International and it is not possible to speculate about the eventual income of the vote."