Cocaine worth £1mn found in Tesco's banana box
Published time: 28 Jul, 2015 14:50
Edited time: 28 Jul, 2015 16:12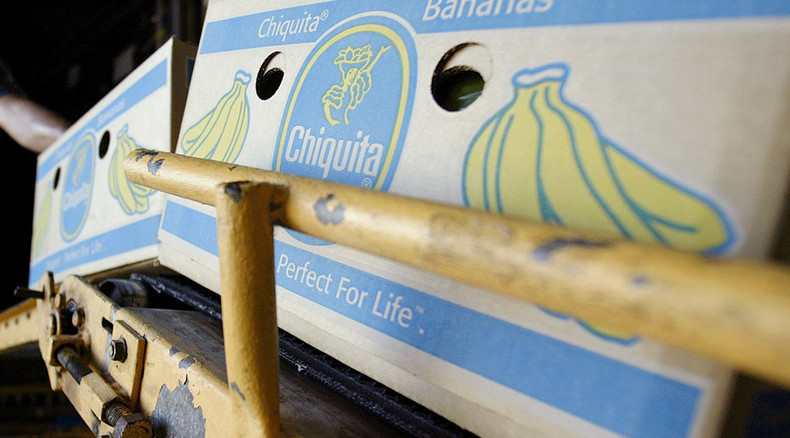 A young Tesco employee was shocked to discover up to £1 million worth of Costa Rican cocaine in fruit boxes that were meant to be filled with bananas.
Police were called to a Tesco's branch in Wokingham, Berkshire on Wednesday after an employee found gift bags filled with white powder, each weighing 1kg. Authorities believe the packages contain Class A drugs.
Most of the retailers' bananas are imported from Costa Rica, a country where cocaine smuggling is rife. The boxed fruit is usually sent to distribution centers around the UK before being sent out to stores.
A source from the store told the Mirror: "The box of bananas [was] piled up in a metal cage and being unwrapped ready to put on the shelves."
During an employee's shift he "spotted the box with red tape and decided to take a closer look."
He was "understandably shocked" to open the box and find small bags underneath the fruit. "You don't need to be a genius to know what it is," the source added.
Matthew Atha, director of drug and research company the Independent Monitoring Unit, told the Evening Standard it was "not impossible" that someone in Tesco's was involved in the distribution process of the Class A drug.
However, he suggested it was "more likely that it is someone from the distribution who wasn't there on the day to collect the delivery, or had been arrested on other charges."
It is possible that someone from the distribution center "missed the collection of the drugs."
Although It is "quite likely" that is has gone on for some time and authorities "will be paying particular attention to whoever the distributor is," he added.
Thames Valley Police said no arrests have yet been made following the discovery of the drugs in the fruit boxes.
A spokesperson for Tesco's said they will be helping the police with their investigation.
Authorities seized over 25 tons of the Class A drug from Costa Rica last year, a higher amount than from any other country in Central America.
The supermarket chain works directly with a range of farms in Costa Rica, and last year nearly half of their supply of bananas came from 12 farms in the country.
This isn't the first time drugs have been hidden in food shipments. In April 2014, £25 million worth of cocaine was found in a consignment of bananas from Colombia at a warehouse in Kent.