12ft shark caught after epic 5-hour battle with Welsh fishermen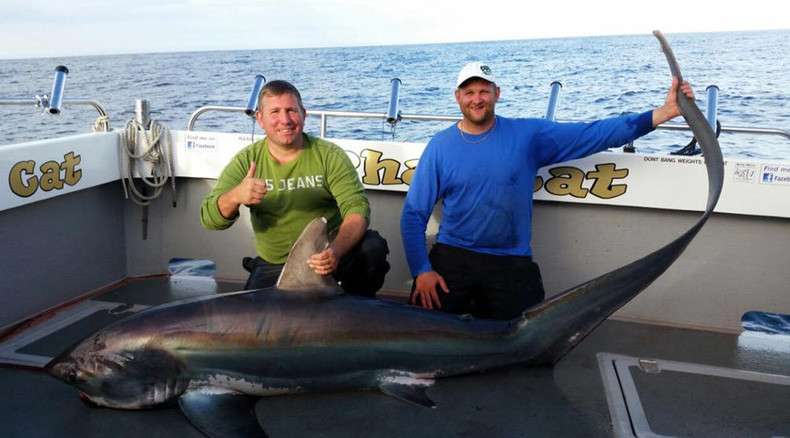 Intrepid fishermen off the Welsh coast have caught a shark, believed to be the biggest catch in the area's history, weighing more than 120kg.
Angler David Thomas took five full hours to catch the 271lb Thresher shark on Sunday, Wales Online reports, the biggest of its kind caught in Wales.
Thomas, who hails from Bridgend in south Wales, caught the shark off the coast from Milford Haven. He recruited five of his friends to help reel the beast aboard.
The fishing boat captain said that thresher sharks are not uncommon in the area.
"I couldn't believe it when I was told the shark was the biggest caught in Welsh waters," Thomas told the paper.
"It certainly didn't make it easy for me, taking over five hours to reel it in. I was really tired by the end – but it was all worth it."
The keen angler was on a sharking trip with a company that runs fishing expeditions off the Welsh coast when he caught the 12ft shark. The crew of six worked shifts to reel the shark in over the course of five hours.
It is believed to be only the second Thresher ever caught off the coast of Wales, with the first caught only three days before Thomas' catch.
Normally Thresher sharks are found in more tropical climes, where they prefer to live alone.
"It was a very unusual catch. It's a big thing for a fisherman to catch one," Skipper Craig Deans told the paper.
"It was definitely the best catch and the best day for me. We were all buzzing on the boat. We were like schoolkids."
"I just think these fish were getting culled as a by-product as well and it has made a lot of difference where they've stopped it," he said.
Deans said he expected to see many more Thresher sharks being caught in Wales following the ban on the commercial fishing of Porbeagle sharks.
"He was still full of beans when we got him on the boat," Deans said of the shark, which was released back into the wild after it was caught.
"There was no damage to the fish and as soon as we put it back in the water he had plenty of life in him after that."
"It's been a good week for Welsh anglers, with the record being broken and topped again in the space of three days."
"Wales really is becoming the hot spot for shark fishing, standing up to tough competition from other parts of Europe and this latest catch proves just that."