​£1mn private school fees pricing out UK middle class – study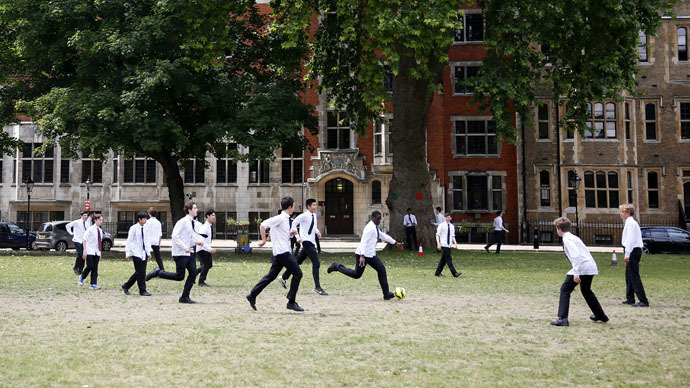 The cost of sending a child to private school in Britain has more than trebled since 1990 with increasing numbers of middle-class professionals unable to afford the fees, a new report reveals.
The research, led by private stockbroker Killik & Co and the Centre for Economics and Business Research, found that yearly private school fees have risen from £12,723 to £13,194 in the past year alone.
The report found the average daily fee for these elite institutions is 342 per cent higher than it was 25 years ago. This rapid rate of increase has outpaced growth in wages, it added.
Financial Futures: putting a price on a private education http://t.co/mNv93OCzy8

— Daniel Aitkenhead (@Dan_Killik) July 15, 2015
Currently, the average yearly fee of a private boarding school in England is £30,369 but analysts predict it will rise by a further 105 per cent by 2028.
Over the full education period of 14 years, parents are expected to pay £286,000 overall per child for private day school and £486,000 for boarders.
Parents sending two children to a private boarding school from the age of 13 will have to fork out an estimated sum of £890,000, the study said.
"Even with two parents working, as fees outpace earnings, many professionals are now unable to afford private schooling," it added.
Some of the parents surveyed maintain private schooling helps children to "build important connections" and learn more in smaller classes.
Primary Education: Cost of private education nearing £1 million, study finds: Professional families risk being... http://t.co/3ABBZ6lFgu

— Support Team (@AcademicsGradTA) July 14, 2015
However, the research argues that private schooling is poor investment as parents' could better use these funds to invest in their kids' financial futures.
"With such a large sum potentially at stake, it makes sense for parents to ask whether the amounts that they would have invested in their children's education could not be better invested to set them up financially for life,"the study said.
Sarah Lord, who led the study, said the cost of private education will burn the pockets of many families, adding it is "not going to be viable for everybody."
She argued the biggest challenge for independent schools is to "keep fees affordable" while maintaining the "high standards" parents expect from private education.
Public students x2 as likely to be bullied as private http://t.co/7sxQznWrWA via @smh Or perhaps are half as reluctant to report bullying?

— Ming The Merciless (@MGliksmanMDPhD) July 15, 2015
In response to the study's findings, General Secretary at the Independent Schools Council Julie Robinson said that private schools "know that parents are under pressure to pay fees."
"Our schools work hard to keep fees as low as possible, with the increase last year being the lowest in twenty years," she said.
The Kiilk & Co report concluded that private schooling may be expensive but"seems to outperform other investments, which helps to explain why despite the rising fees, parent continue to choose it."
New research from the University of Melbourne in Australia published on Wednesday shows teenagers who attend public schools are "twice as likely" to be bullied as those studying at private schools.
"Boys aged 15 and over at school are also more likely to report skipping school and being suspended or expelled, while girls are more likely to report being worried about bullying," the University of Melbourne study said.