Water cannons won't be used to control UK rioters, says Home Secretary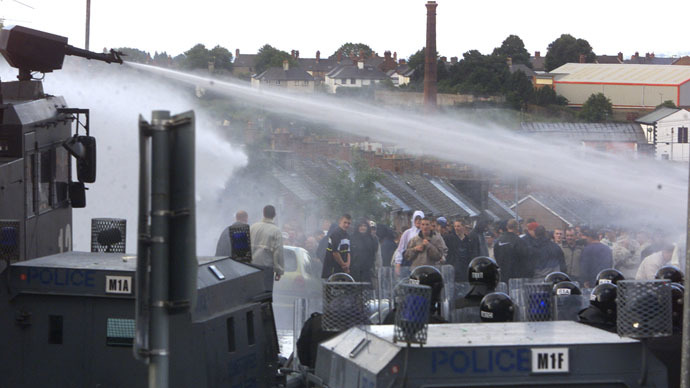 Police attempting to control riots will not be allowed to use water cannons, despite receiving training and equipment, the Home Secretary has announced.
Theresa May told the House of Commons on Wednesday that "without safeguards" the cannons could "cause harm" to the public.
Her public rejection of the water cannons will come as an embarrassment to London Mayor Boris Johnson who has shelled out over £200,000 on second hand cannons from German police last year.
Metropolitan police forces have also undergone specialized training to equip them for water cannon use.
READ MORE: 'Draconian' new strike legislation could bankrupt Labour – union chiefs
May said she was concerned about the risk of injury to the public, adding that they were likely to damage the reputation of the police force. She said that the decision to use them was a "serious" one and that a study had already been carried out to assess their safe use.
"Without safeguards they have the capacity to cause harm,"she warned.
May added that she was "unconvinced" about the "operability" of the cannons purchased by Johnson, which are already 25 years old.
She concluded by saying that she had concerns about the "potential impact of water cannon on public perceptions of police legitimacy."
Shadow Home Secretary Yvette Cooper welcomed the decision, saying the Home Secretary's words were "exactly right."
Johnson, however, was "disappointed" by the move, a source told the BBC.
The source added that the Prime Minister, the Metropolitan Police Commissioner and many Londoners were supportive of water cannons' usage Scotland Yard would continue to train officers on how to operate them.
In the UK, only Northern Ireland uses water cannons as a form of crowd control. They were deployed most recently on Monday against Loyalist demonstrators during July 12 celebrations.