​British air force closes Cyprus runway after deadly missiles fall off UK jet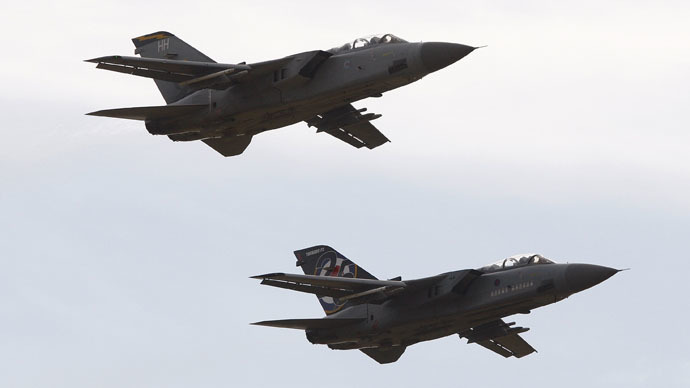 The runway of a Royal Air Force (RAF) base in Cyprus was shut down on Wednesday after two deadly Brimstone missiles fell off a Tornado aircraft as it was reportedly returning from a bombing run targeting Islamic State militants in Iraq.
The advanced missiles, which cost £105,000 each, are thought to have become detached after a restraining bracket was damaged during a rough landing with poor visibility.
The armaments smashed to pieces on the ground but did not explode because they had not been electronically primed by the aircrew – a process necessary to fire them in combat.
While some outlets reported that the aircraft had been returning from combat in Iraq, an RAF spokesman, Kristian Gray, declined to comment on operational matters.
Gray told Reuters: "I can confirm that during a Tornado landing at Akrotiri two of its missiles became detached from the aircraft."
"It was a heavy landing which caused the missiles to detach," he added.
Gray went on to say that no one had been injured but the runway was temporarily closed.
READ MORE: RAF may lack aircraft to bomb Syria – expert
An anonymous RAF source told the Daily Mail that the debris was being cleared from the runway. He said the missiles were so badly damaged on impact that they are no longer fit for use.
The UK's ageing Tornado fleet is likely to come under scrutiny after the incident, the aircraft having been in service since 1991.
In July, it was reported that the RAF may lack sufficient warplanes to extend combat operations into Syria, despite senior political and military figures suggesting the idea in the wake of a terror massacre in Tunisia which left 30 British tourists dead in June.
"It would be a very big ask. It could be done, but then you would see a real drop-off in the RAF's ability just to keep eight Tornadoes on operations after that," military sciences research analyst Justin Bronk told the Financial Times.
"If … the government wants to commit larger numbers of fast jets and combat air assets on overseas operations on a long-term basis, then the RAF as designed is simply too small," he added.
The shortage of aircraft is partially due to defense cuts, but may also be a symptom of delays in RAF's Eurofighter Typhoon jets being brought into full operational service.