​RAF may lack aircraft to bomb Syria – expert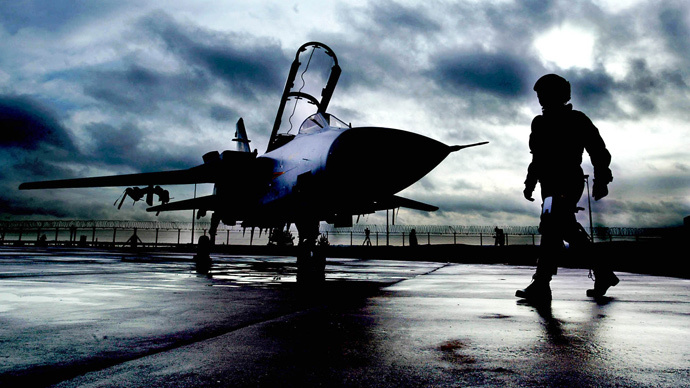 Britain's Royal Air Force (RAF) may lack the warplanes to extend combat operations into Syria, even if Prime Minister David Cameron was to force and win a vote to do so in the wake of the Tunisia massacre, according to a military aviation expert.
"It would be a very big ask. It could be done, but then you would see a real drop-off in the RAF's ability just to keep eight Tornadoes on operations after that," Justin Bronk, military sciences research analyst at the Royal United Services Institute (RUSI), told the Financial Times.
READ MORE: 'Illogical' not to bomb Islamic State in Syria – Def. Secretary
"If … the government wants to commit larger numbers of fast jets and combat air assets on overseas operations on a long-term basis, then the RAF as designed is simply too small," Bronk added.
He also warned that Cameron's military advisors would likely oppose increasing air power against Islamic State (IS, formerly ISIS/ISIL) given the UK's other commitments.
The shortage of aircraft is partially due to defense austerity, but may also be a symptom of delays to the RAF's Typhoon jets being brought into full operational service.
The Typhoon aircraft, which has technically been in service for eight years, is mostly assigned to protecting UK airspace and the Falkland Islands.
Besides geographical commitment, the Typhoon still cannot fire its most powerful armament, the Brimstone missile, due to technical issues.
This leaves the option of drones like the remotely-operated Reaper, but even operating unmanned aircraft has had a wearing effect on aircrews with combat fatigue from operations in Iraq, Afghanistan and Libya having taken a toll.
READ MORE: Will Cameron push for another vote to bomb Syria?
In a statement, a spokesperson for the Ministry of Defence (MoD) told the FT, "The RAF is fully resourced to meet any future operational demands as shown by the expansion of the Typhoon fleet and a £135 million [US$211 million] investment which has doubled the number of Reaper aircraft."
"We've always been clear that ISIL has to be defeated in both Syria and Iraq," Defence Secretary Michael Fallon told the BBC on Thursday.
"We have plenty to do in Iraq. Each member of the coalition is doing different things. ISIL is organized and directed and administered from Syria. There is an illogicality about not being able to do it."
However, Tory justice minister and former soldier Crispin Blunt disagreed, telling BBC Radio 4's Today program on Thursday, "There's no military necessity for this. We are not providing very many of the aircraft."