​Victims of brutal 'honor killings' remembered in statewide memorial
Published time: 14 Jul, 2015 16:06
Edited time: 14 Jul, 2015 16:08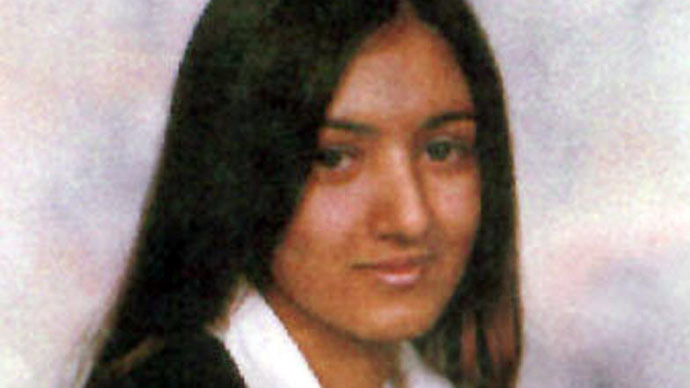 Victims of so-called 'honor killings', who are said to have brought 'shame' on their families or communities, were remembered across the UK on Tuesday, following a nationwide memorial day.
The day of remembrance was organized by Cosmopolitan magazine and Karma Nirvana - a support charity for victims of honor-based crime.
Karma Nirvana chose to hold the memorial on July 14 because it would have been the 29th birthday of Shafilea Ahmed, who was killed by her parents when she was 17 years old.
Ensure Britain never forgets victims of #honourkillings Tweet #RememberShafilea & give them the memorial they deserve pic.twitter.com/4ItQsYCuBL

— Karma Nirvana (@KNFMHBV) July 14, 2015
UK police recorded more than 11,000 cases of 'honor' crime between 2010 and 2014, with most aimed at women.
According to a report by the Henry Jackson Society, there have been 18 cases of honor killings in the UK between 2010 and 2014. However, this figure is conservative compared to that offered by campaigners.
Karma Nirvana report that there are an estimated 5,000 women across the world murdered each year in so-called honor-killings, with at least 12 victims coming from the UK.
These brutal murders are usually perpetrated in the belief they defend the honor or reputation of a family or wider community.
Karma Nirvana CEO Jasvinder Sanghera said the memorial day was held to raise awareness about the scale of the problem in Britain.
READ MORE: Slavery victims abandoned by UK govt face further abuse, exploitation
"We are going to be honoring the memories of the most honorable human beings where the perpetrators tried to erase them completely," she said.
"It's also an opportunity to raise awareness about the issue of honor-based abuse and the scale of the problem in Britain."
Shafilea Ahmed died at the hands of her parents in 2003 because she embraced a Western lifestyle, which included partying and wearing make-up.
Shafilea's body was found on the banks of the River Kent in Cumbria six months after she disappeared from her home in Warrington, Cheshire.
Her parents were found guilty of the crime by a jury at Chester Crown Court in 2012 after denying her murder. They were both handed a minimum of 25 years in prison.
Over the course of the trial, it emerged Shafilea's parents had suffocated her with a plastic bag after subjecting their daughter to years of abuse.
READ MORE: Convictions for rape & violent crimes against women rise
During the court proceedings, Justice Roderick Evans told Shafilea's parents, "Your concern about being shamed in your community was greater than the love of your child."
"A desire that she understood and appreciated the cultural heritage from which she came is perfectly understandable, but an expectation that she live in a sealed cultural environment separate from the culture of the country in which she lived was unrealistic, destructive and cruel," he told them on sentencing.
Karma Nirvana and Cosmopolitan have called on Twitter users to tweet the hashtag #RememberShafilea in her memory.
Both organizations say they aim to raise awareness about so-called 'honor' abuse and encourage victims, or people who suspect they know a victim, to seek help.
For anonymous support with Honor Based Abuse (HBA), contact Karma Nirvana's helpline on 0800 5999247.