​Greece debt crisis: 'Eurozone should foot its own bill,' says Osborne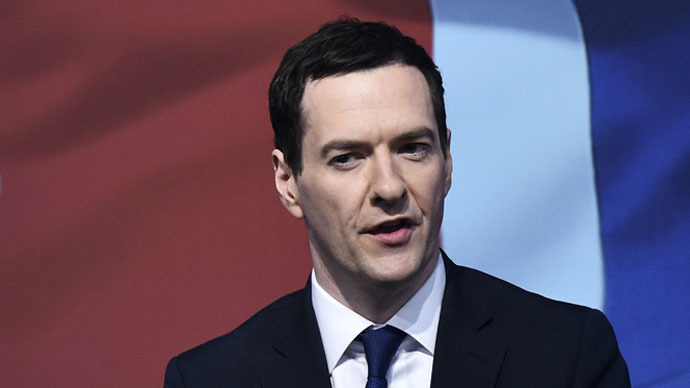 Chancellor George Osborne is seeking to prevent any move by the European Union to use British taxpayers' money as part of the Greek bailout, it has emerged.
Osborne is meeting eurozone leaders in Brussels on Tuesday to oppose the use of an EU-wide emergency fund which contains British cash in the Greek bailout program, arguing that the eurozone must be responsible for itself.
The move is in response to reports EU officials are considering using funds drawn from all members of the EU for a bridge loan to debt-stricken Greece.
Eurozone leaders struck a deal on Monday after all-night negotiations to stop Greece from exiting the euro in return for the Greek government implementing harsh austerity reforms.
The agreement has been condemned by former Greek Finance Minister Yanis Varoufakis, who described it as a "new Versailles," in reference to the 1919 treaty which historians consider a major cause of World War II.
Slowly, disbelief is giving way to outrage. We know that #ThisIsACoup. Now we have to respond. Passionately. Democratically. Strategically.

— Jerome Roos (@JeromeRoos) July 13, 2015
The Twitter hashtag #ThisIsACoup trended on Twitter Monday as web users around the world denounced the draconian measures forced on Greece by creditors and eurozone ministers.
In a meeting with eurozone leaders on Tuesday morning, Osborne insisted British cash must not be used to bailout Greece.
"Britain is not in the euro, so the idea that British taxpayers will be on the line for this Greek deal is a complete non-starter," Osborne said.
"The eurozone needs to foot its own bill."
If only the Eurocrats who swat aside referendums really *were* as expert as they like to think. #ThisIsACouppic.twitter.com/TOSsVsqxNK

— Daniel Hannan (@DanHannanMEP) July 14, 2015
The chancellor reportedly told eurozone leaders the group must honor a previous agreement that the European Financial Stabilization Mechanism (EFSM) would not be used for further eurozone bailouts.
In 2010, Prime Minister David Cameron secured a "clear and unanimous agreement" that the EFSM would not be used for future eurozone bailouts after it was used to assist Ireland and Portugal.
At the time Cameron pushed for members of the single currency to share responsibility for their own debt crises.
The original agreement still stands, a Downing Street spokesman told the Guardian.
"Leaders from across the EU agreed in 2010 that the EFSM would not be used again for those in the euro area and that remains the prime minister's view," he said.
"We have not received a proposal and one is not on the table."
However Martin Selmayr, chief of staff to European Commission president Jean-Claude Juncker, has urged the use of EFSM to provide a bridge loan to Greece, according to the Financial Times.
France is also reported to be "particularly keen" to use the EFSM.
READ MORE: No to 'EU colony': Tsipras faces opposition from govt & people against bailout deal
Returning to Athens on Monday, Greek Prime Minister Alex Tsipras faced accusations of capitulation as critics condemned the harsh austerity measures of the new bailout.
Tsipras is facing opposition within his own governing party, Syriza, as well as protests in the streets, for accepting further Troika (IMF/ECB/EC) austerity just a week after the Greek people rejected a similar bailout package by popular vote.
Former Greek ambassador Leonidas Chrysanthopoulos said the deal was "too tough, too late, the death of the Greeks."
"These absurd measures do not reflect the EU we entered back in 1981. It has actually made Greece a colony of Germany, not to say of the European Union," he told RT.
He added that "despite the concessions the EU has made to Greece, the country is far from being out of the crisis."
READ MORE: 5-year "timeout" from the euro for Greece is "off the table" - Martin Schulz
As part of the deal, Greece has agreed to make cuts to its pension industry, conduct a review into its labor market, and drop barriers protecting some areas of the economy, among other reforms.
Athens must also sell off valuable assets in order to raise €50 billion (£35.5 billion or $54.9 billion) cash to inject in its banking system and pay back an extra loan Greece secured during the latest round of bailout talks.
Money generated from these valuable assets will be transferred to a trust supervised by Greece's creditors.
Former Greek Finance Minister Varoufakis has called the deal "unviable" and compared it to the Treaty of Versailles at the end of the First World War which forced a defeated Germany to pay enormous reparations.
"This has nothing to do with economics. It has nothing to do with putting Greece back on the rails towards recovery," Varoufakis told Australia's public broadcaster ABC.
"This is a new Versailles treaty that is haunting Europe again, and the prime minister [Tsipras] knows it. He knows he's damned if he does and he's damned if he doesn't."