UK doctors call for 20% tax on sugary drinks to tackle obesity
A 20 percent tax on sugary beverages should be introduced to subsidize the sale of fruit and vegetables and fight the obesity crisis in Britain, say UK doctors.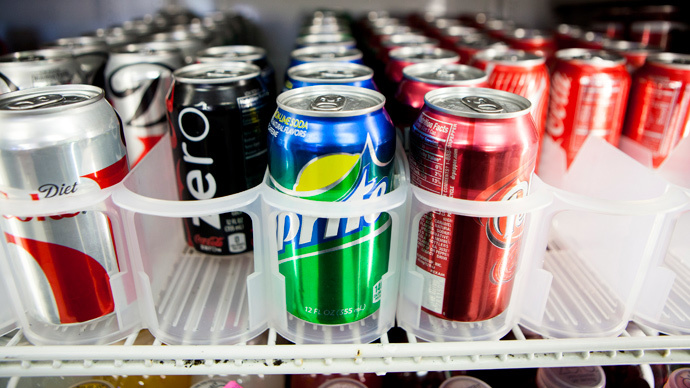 One third of the British population is expected to be obese by 2030 due to lack of exercise and poor eating habits, while a quarter of the adult population is now said to be obese.
Diabetes levels have doubled in the past two decades and rates of overweight children in Britain are among the highest in Europe.
The Food For Thought report published by the British Medical Association (BMA) on Monday says the tax will reduce obesity levels by about 180,000 people in the UK.
A tax on unhealthy beverages would be a "useful first step" to encourage people to buy more fruit and vegetables, the report suggests.
Food for Thought also highlights the importance of promoting healthier diets to the younger generation as the rapid rise in obesity has become a "growing concern."
Diet-related illnesses cause up to 70,000 deaths in Britain annually and have the biggest impact on the NHS' budget, costing nearly £6 billion per year.
READ MORE: Coca-Cola pays health experts to suggest soda as a healthy snack
Professor Shelia Hollins, chair of the BMA board of science said sugar-sweetened drinks are of "limited nutritional value and when people in the UK are already consuming far too much sugar, we are increasingly concerned about how they contribute towards conditions like diabetes."
"We know from experiences in other countries that taxation on unhealthy food and drinks can improve health outcomes, and the strongest evidence of effectiveness is for a tax on sugar-sweetened beverages," she added.
The majority of British people, particularly those from low-income households, are "not consuming enough fruits and vegetables," she said.
"Financial measures should be considered to subsidize their price, which has risen by 30% since 2008," she added.
However, the food and drink industry condemned the BMA's call for a 20 percent tax on sugary drinks, claiming it would be "ineffective."
Food and Drink Federation Director General Ian Wright told Food Manufacture magazine that many foods and drinks are "already taxed at 20%."
"Where additional taxes have been introduced they've not proven effective at driving long-term, lasting change to diets," he said.
READ MORE: Suicide by soda: Sugary drinks kills 184,000 people a year, study says
British food and drink companies are "cutting the salt, saturates and calories in their products, which are offered in a range of portion sizes," he added.
British Soft Drinks Association Director General Gavin Parrington argued that taxes on sugary drinks had not changed consumers' diets in other countries that introduced the levy.
"By contrast, the efforts of soft drinks companies including product reformulation, smaller pack sizes and increased promotion of low and no calorie drinks have led to a 7% reduction in calories from soft drinks in the past three years," he said.
The report also suggests that marketing is playing a huge part in Britain's obesity crisis. The BMA is calling for a ban on the promotion of unhealthy food and drink products to young people.
Australian Beverages Council Chief Executive Geoff Parker told 9 News that a tax on one type of food or drink should "not be promoted."
"Evidence from other countries show that this type of tax does not deliver long-term societal changes," he added.
You can share this story on social media: