'Orwellian': Tory move to criminalize dissent strategic & unjust, say union chiefs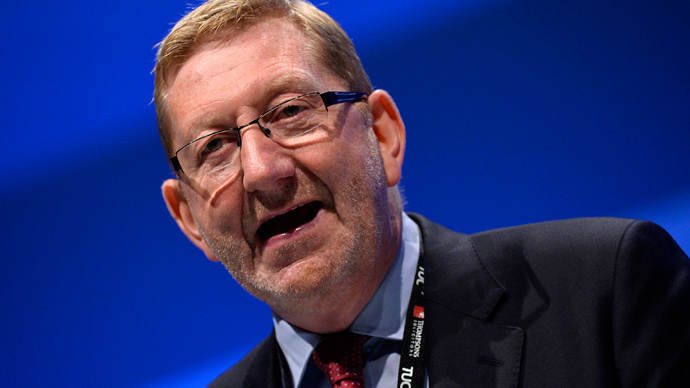 Britain's biggest union has passed a motion allowing its members to hold illegal protests in a pre-emptive strike against government plans to restrict lawful industrial action.
Unite, which has 1.5 million members in the UK, removed a clause from its rule book stipulating protests can only take place "so far as may be lawful" during a rules conference last week.
Speaking at a miners' event on Saturday, the union's general secretary Len McCluskey said Unite was prepared to resist plans by the Conservative government to limit industrial action.
ASLEF union General Secretary Mick Whelan also opposes the legislation, warning it is reminiscent of Nazi Germany.
"The Nazis banned unions and strikes in 1933, and that is what the Tories are trying to do now," he said.
"They want to effectively neuter the unions - the only part of civil society now able to fight back - in Britain."
The government will publish legislation on Wednesday, which is expected to propose a 50-percent turnout threshold for strike ballots, while for "core" public services such as health, transport, education and the fire service the threshold will be 40 percent.
READ MORE: Trade unionists, blacklisted activists demand police spying inquiry
Laws restricting the use of agency workers during strikes will also be relaxed, while strict time limits for holding strikes after a ballot will be introduced.
Unions which have political funds will have to ask their members to opt in rather than opt out, a move which is likely to hit funding of the Labour party.
Speaking at the Durham Miners' Gala on Saturday, McCluskey said the Tories' assault on Britons' right to protest is unacceptable.
"Agency labor scabs will be licensed to break strikes, according to the government's stated plans," he said.
"Pickets can be criminalized, and our Political Fund is under attack from Tories who will continue to take secret donations from hedge fund millionaires."
McCluskey said his members had voted to go on strike almost 700 times in the past year, winning almost every dispute in the process. The union boss went on to ask the audience if the law should be respected "under all circumstances."
READ MORE: 'Vote Corbyn': Britain's biggest union Unite backs socialist for Labour leadership
"Unite is not going to see itself rendered toothless by passively submitting to unjust laws. If the Tories wish to put trade unionism beyond the law, then they must take the consequences," McCuskey said.
"We are ready for the fight, and we will, I believe, find allies throughout society, amongst everyone who cares for freedom and democracy."
TUC general secretary Frances O'Grady said the Tories' planned legislative shift is unjust.
"This Bill is an affront to fair play. It reads like something straight out of a George Orwell novel," she said.
"Making it a criminal offence for there to be more than six people on a picket line would be a waste of police time and should worry anyone who cares about civil liberties."