​Transgender women could serve in close combat – Army chief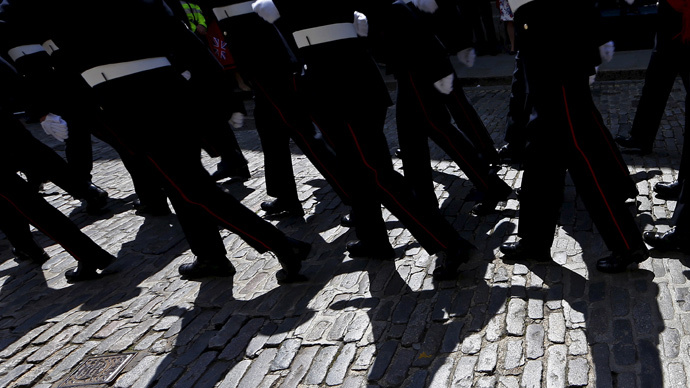 The armed forces should not "directly exclude" female transgender soldiers from fighting as they "might well be able" to serve the front line, an army chief has said.
Women are currently banned from serving in the infantry and in armored units, but a review is underway. Combat roles may be opened up to women by next year.
Women in the forces already serve in dangerous areas, but do not currently engage in close quarters combat. Last year, Defence Secretary Michael Fallon said he hoped to "open up combat roles to women" by 2016.
READ MORE: Hate crime 'magnified' for rural LGBT community - study
Lieutenant General Andrew Gregory, who is in charge of diversity and inclusivity in the armed forces, says there is a "psychological difference between men and women" regarding hip configuration and bone muscle density.
However, Gregory suggests men who have become women may already be eligible for such combat roles.
Despite the British Army's efforts to increase LGBT diversity in its forces, it still contains traces of homophobia, Gregory admits.
He expressed the importance of diversifying the armed forces and recruiting more staff from the LGBT community as they "all have much to offer."
"We've got to tap all sections of society otherwise we simple won't be able to get the people we need," he said.
There are not currently any female transgender people serving in the infantry as recruiters "haven't had the issue come up," Gregory told Pink News, adding it would be a "very interesting test case."
Interview: Army Chief Andrew Gregory on why trans people can serve in the front line http://t.co/ohVmQAE8Kqpic.twitter.com/maojrfsx8L

— PinkNews (@pinknews) July 8, 2015

"If somebody – birth gender male who physically has all the physical strength and durability but had transitioned, they might well be able," he said.
However, Gregory highlighted some issues that female transgender officers could face, including suitable accommodation.
He nevertheless insisted forces should not "directly exclude" transgender people.
In 2011, US President Barrack Obama lifted the ban on openly gay troops serving in the US military. He welcomed the end to a policy that forced LGBT members to "lie about who they are."
READ MORE: British Army's first transgender officer plea: Don't 'sensationalize' her story

Agreeing with Gregory's suggestions, Trans Media Watch Chair Jennie Kermode told RT she hopes "all soldiers would be judged on their merits" before anything else.
Kermode said she "knows many trans women who continued to present themselves as male in order to serve out their military careers before seeking medical treatment."
"They could have done better without the constant pressure of keeping secrets about who they were," she added.
Last month, the US Air Force said being transgender is no "longer grounds for discharge."
"Identification as transgender, absent a record of poor duty performance, or a medically disqualifying condition, is not a basis for involuntary separation," they said in a statement.
The Ministry of Defense recently won the 'most improved employer' award in Stonewall's Workplace Equality Index.