The ax man cometh: George Osborne's emergency budget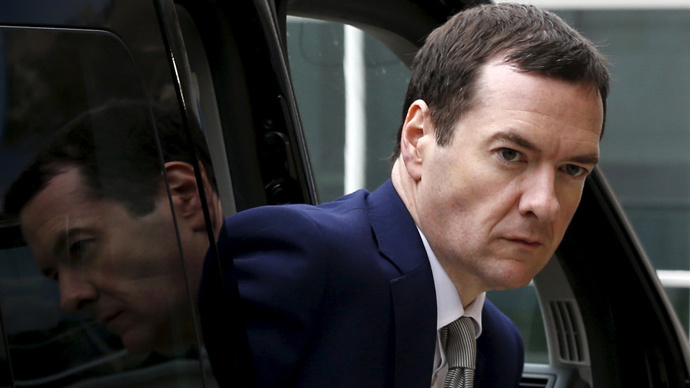 Chancellor George Osborne delivered the first fully Conservative budget in 19 years on Wednesday, with cuts to welfare, lower taxes on high earners and greater military spending high up on the bill.
Without the mediating force of the Liberal Democrats in coalition, Osborne attempted to defy criticism that his budget will cut too much from the most vulnerable sectors of society while introducing further benefits for the middle classes.
Welfare cuts
It was correctly predicted earlier in the week that Osborne would announce an initial cut of £8 billion (US$12.3 billion) to welfare over the next two years. The pace of cuts remains similar to the agreed plans laid out during the coalition government – likely an attempt to shield the Chancellor from criticism.
The announcement means the original plan to save £12 billion by 2018 has been adjusted to allow for a slower rate of cuts.
Benefit cap
Osborne announced the benefit cap for out-of-work families will be reduced from £26,000 ($40,000) to £23,000 in London and £20,000 for the rest of the country. He claimed the cap had so far pushed tens of thousands of families into work and out of unemployment.
The move is likely to be pounced on by Labour MPs and social campaigners.
Axing student grants
Maintenance grants for students whose parents are on low income will be scrapped, Osborne revealed. The Daily Mail reported Business Secretary Sajid Javid has been working on plans to force students to pay back the grants, worth up to £3,387, after they graduate, which will be implemented by the Conservative administration.
READ MORE:Anti-austerity protestors plan 'Oxi to Osborne' protests, oppose Tory budget
Currently, the grants are available to students with a family income of up to £42,620, but new measures will see the grants system scrapped and be replaced with loans which students must pay back once they earn over £21,000.
He further revealed that the maximum amount a student would be eligible to receive would be raised to £8,000.
Defense
Osborne has announced the UK will meet its commitment to spend 2 percent of its GDP on defense as symbolically required of NATO member states. The measure will applauded by NATO allies and military chiefs concerned about Britain's role on the world stage.
Inheritance tax
Houses and estates worth up to £1 million can be passed to children and grandchildren tax free, Osborne revealed, displaying the Conservative Party's commitment to providing perks to the middle and upper-middle classes.
Living wage
In a concession to the working poor, the Chancellor announced a new national living wage to ensure every low paid worker will receive enough to live. He said the rise to £7.20 ($11.06) per hour would give 2.5 million people a pay rise, which will total a cash increase of over £5,000 per year for each worker.
Tax threshold
Osborne said the tax-free personal allowance will be raised to £11,000 from this year. This is expected to be coupled with an increase in the higher rate of tax threshold to prevent more people paying higher rates of tax.
This move is a sweetener for Tory voters, who will be expecting the new government to implement its manifesto pledges. These include raising the level of tax-free income to £12,500 and start the higher rate of taxation at £50,000, which Osborne says the new measures are a step toward.
"Our long-term economic plan is working. But the greatest mistake this country could make would be to think all our problems are solved," Osborne told MPs.
"You only have to look at the crisis unfolding in Greece as I speak to realize that if a country is not in control of its borrowing, the borrowing takes control of the country."