​Anti-austerity activists plan 'Oxi to Osborne' protests, oppose Tory budget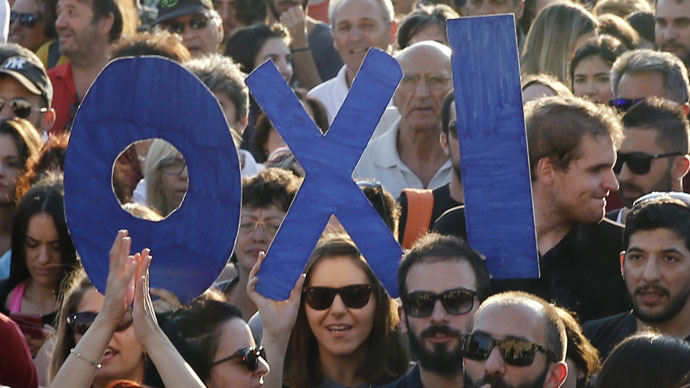 Anti-austerity campaigners will hold "Oxi to Osborne" protests outside Parliament and across the country on Wednesday as the Chancellor unveils a further £12bn worth of welfare cuts.
Emboldened by the Greek people's resounding rejection on Sunday of a European Union bailout package that would have heralded further austerity, British activists will hold a mass "die-in" to protest the impact of welfare cuts.
Demonstrations will take place in more than 40 towns and cities across the UK, including Manchester, Newcastle and Birmingham. Many have been organized by the People's Assembly Against Austerity.
Chancellor George Osborne will announce further government spending cuts in his first budget by the Tory majority government on Wednesday.
He has already promised to cut a further £12bn from welfare spending by targeting subsidies for social housing and introducing a benefits cap.
READ MORE: Greece wants to be part of a democratic Europe, not one of austerity – deputy interior minister
He has also pledged to cap the total amount of benefits a family can claim each year at £23,000 for London residents and £20,000 for households outside the capital.
The government expects to save £1.67bn over the next five years as a result of the cap while 89,000 households will be affected, according to the Treasury.
Osborne is also expected to introduce taxes on disability benefits, a measure that would reduce government spending by £1.5bn.
Incapacity benefits are also likely to be targeted, with one briefing leaked to the BBC suggesting the Treasury will cut Employment and Support Allowance (ESA) to £30 a week for people in the 'work-related activity' group.
"OXI to Osbrone" protests will begin at 17.30 BST on Wednesday.
READ MORE: New Tory govt doubles planned cuts in massive attack on welfare state
Campaigners from Disabled People Against Cuts are also planning to take part, as are striking workers from Barnet Council, Bromley Council, the National Gallery and London Underground.
British campaigners have called their protest "Oxi to Osborne" in reference to the 61.3 percent of Greeks who voted "Oxi" to reject an EU bailout package for further austerity in Sunday's referendum.
People's Assembly press officer Ramona McCartney told the Guardian: "We have had a lot of interest since the [Greek] no vote; our phones have been off the hook."
People's Assembly National Secretary Sam Fairbairn said: "Osborne is set to announce a further 12bn in cuts to welfare, hitting the poorest in society hardest."
"It's a disgrace that the government continues to hide the figures of the number of people who have died as a result of their austerity measures.
"The people of Greece have now voted twice to reject austerity. This will inspire millions across Europe that we can do the same. We vow to create a movement so big it stops any austerity in its tracks. The People of Britain will say "OXI!" to Osborne," he added.
You can share this story on social media: