​​Gaza war anniversary: 'Aggressive' UK police arrest 8 at Israeli arms factory protest (VIDEO)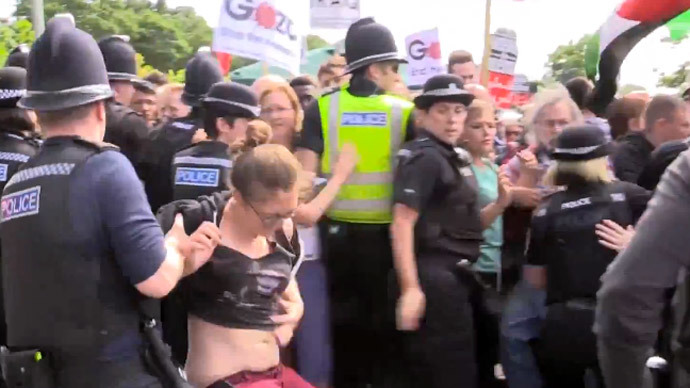 Staffordshire Police have been accused of making a "heavy-handed" intervention during a protest outside an Israeli arms factory organized to mark the anniversary of last year's Gaza conflict.
At least eight people were arrested Monday during the demonstration outside a factory in Shenstone, which is owned by a subsidiary of Israeli defense contractor Elbit Systems.
An activist with London Palestine Action, speaking in personal capacity, told RT that the demonstration was meant to be a "fun, creative" experience, but was met with "aggressive [and] forceful police tactics."
Campaigners estimate 200 people attended the protest near Birmingham, which was the site of a similar blockade in August 2014.
The protest was timed to mark the one-year anniversary of start of the Gaza conflict. Activists held a memorial service for the 2,200-plus Palestinian victims, 490 of whom were children.
Protests were also held in Tamworth and Broadstairs in the UK, and Melbourne in Australia.
Shenstone protesters targeted the UAV Engines factory where engines for Hermes, one of Israel's primary armed drones, are manufactured.
Drones owned by the Israeli Defense Force (IDF) may have been used in attacks that resulted in civilian deaths and violated international law, according to reports by Human Rights Watch and The Guardian.
A variety of campaign groups including War on Want, Campaign Against the Arms Trade and the Palestine Solidarity Campaign united under the umbrella movement "Block the Factory" to organize the day of action.
Protesters posted videos on Twitter indicating a heavy police presence. At one point, a police officer is seen dragging a man holding a megaphone out of a crowd and arresting him.
Speaking to RT, activist Alex Levan, 31, said organizers had intended the protest to be peaceful.
Activists have shut down Elbit's Shenstone drone factory, demanding the UK #StopArmingIsraelhttp://t.co/yvlmDPDlvipic.twitter.com/0gDItmPFhc

— War on Want (@WarOnWant) July 6, 2015
"There were lots of police from early on," he said. "They were very rough, they manhandled protestors, [and] they were very heavy-handed."
"The idea was to reclaim the space around the factory and to turn it into a real festival environment, a creative activist environment with workshops, with a family space, with arts and crafts."
"But the police were heavy-handed, they've made at least 10 arrests, but there will probably be more. These were completely unprovoked arrests, these were peaceful protests," he added.
"But we did spend the majority of the day, from the early hours of the morning, blocking the factory."
READ MORE: Activists to shut down Israeli arms factory in Gaza war anniversary protest
The protest succeeded in halting factory production for the day.
Activists called on the British government "to initiate an immediate two-way arms embargo – to stop arming Israel and to stop buying weapons from Israel."
The Hermes, which is partly produced in the UK, carries two Spike-MR (medium range) missiles, which are produced by Israeli firm Rafael Advanced Defense Systems.
It can stay airborne for up to 24 hours at altitudes of up to 18,000 feet (5,486 meters) and is equipped with optical, infrared and laser sensors that enable it to identify and track targets.
Human Rights Watch claim to have found evidence Spike missiles were used against two Red Cross ambulances during Israel's conflict in Lebanon in 2006.
READ MORE: UK protest group 'shuts down' factory for supplying Israel arms
Six medical workers and three patients were injured in the attack. The Geneva Convention forbids armed forces from targeting medical staff or hospitals.
Staffordshire Police Chief Inspector Steve Smith said: "At Tamworth this morning, a number of individuals climbed onto the roof of a factory building as part of a protest. All seven voluntarily came off the roof. Police officers then directed them to leave the area under public order legislation. No arrests were made.
"At Shenstone, a number of protesters locked themselves to fencing and others blocked the road. A civil injunction is in place around this location so police have the power to arrest anyone breaching this injunction.
"So far eight people, seven men and one woman, have been arrested on suspicion of breaching a high court injunction."
You can share this story on social media: