Racial, social segregation damaging to education – study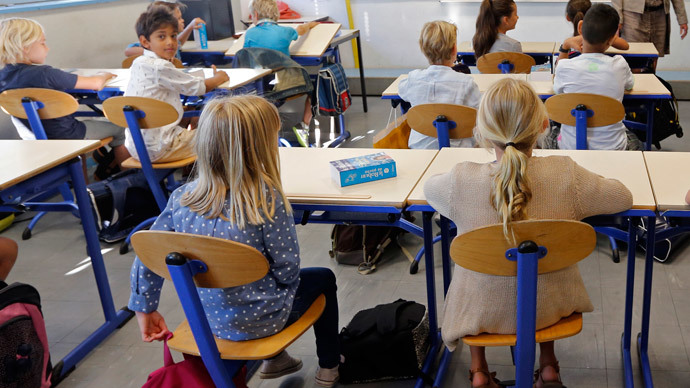 White children's education is being held back by growing racial segregation in schools, research from a leading think tank has suggested.
A report from Demos, a think tank specializes in integration issues among ethnic minorities in the UK, said that many schools are becoming more racially segregated than the communities in which they are found.
READ MORE: Wedding sting: British authorities 'afraid of seeming racist' when challenging sham marriages
It also found that white pupils who would usually perform better in a racially mixed background were suffering academically in more segregated schools.
The study found, adjusting the results to factor in social class, white British pupils performed the worst of all major ethnic groups at GCSEs and white British and black Caribbean pupils completed the least homework.
It also found more than 50 percent of ethnic minority pupils in England are in schools where white British students are a minority.
Demos Chairman Trevor Phillips said parents are more likely to choose a school where the majority of the pupils are from the same ethnic background as their child, but he warned that was not always the most sensible option.
Launching the report on BBC Radio 4's Today program, Phillips said: "To some extent, in London the clever thing for smart middle-class parents to do is to look for schools which have substantial numbers of Indian heritage children, because the statistics say that their child will benefit from sitting in the same class as those motivated kids."
READ MORE: Far-right demonstrators in 3rd UK march against new mosque
He added that greater integration in schools would boost the performance of students, saying that parents need to be educated on the benefits of more integrated schoolas.
"What's important here is that parents have more information about these issues, they think a bit more carefully about the choices they are making because if we do that we can both do something about the social separation – which I think everyone would accept isn't such a great thing – but we can also help some of those who are lagging behind," he said.
"White children are the ones who are doing least well. Those white children who are in schools where there are a lot of high-performing minorities tend to do better. There is something about sitting in class with those kids that improves performance ... We are trying to prepare children for a diverse world – schools should reflect that," he added.
You can share this story on social media: