'Competing ISIS & Al-Qaeda place European Jews under greater threat'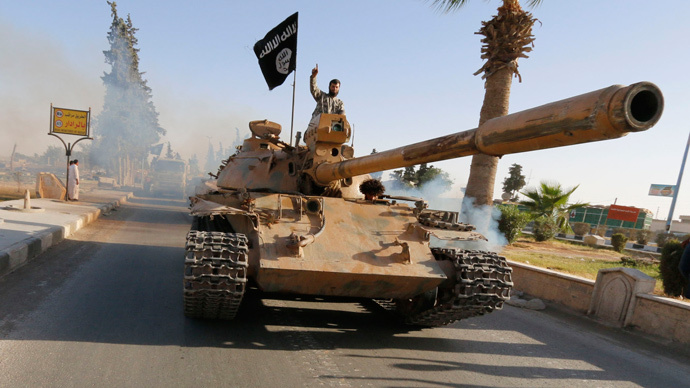 Competition for global influence between different extremist groups has left European Jews facing a heightened threat of terror attack, one senior terror expert has warned.
King's College London radicalization expert Peter Neumann said the ongoing battle for attention between the Islamic State (IS, formerly ISIS/ISIL) and Al-Qaeda "will be suffered by Jewish institutions here in Europe."
The director of the International Centre for the Study of Radicalization and Political Violence said security services on the continent are already "struggling to cope."
READ MORE: 'Culture cleansing' ISIS could target British Museum artifacts, says outgoing director
"The threat we are facing is more severe than it's been in past 10 to 15 years," he said.
"Al-Qaeda still exists, they have supporters. As we found out in the case of Charlie Hebdo, they feel under pressure to show that they still exist and that Daesh [IS] is not the only game in town."
Director of the Centre for Security and Intelligence Studies at the University of Buckingham Anthony Glees agreed with Neumann. He told the audience that Ramadan would be an especially dangerous month after an IS spokesman said the holy month would be a "calamity for kuffars [a derogatory term for non-Muslims]."
"I think that the Ramadan call was very significant and spells mortal danger for the weeks that lie ahead if there is not a heavy response now on the part of Western states towards Daesh."
"We know this from Osama Bin Laden. His two fatwas at the end of the last century were very significant acts of mobilization," he said.
Glees further said the Jewish community is under threat for reasons which "go back 100 years, to the ridiculous radicalizing stories that have risen about the birth of the State of Israel. Arabs have been fed on a series of falsehoods and half-truths – as well as truths – and that will inevitably put Jews at the top of a list of victims."
But the professor noted that the threat to the West overall had been overplayed by British media.
He said the UK has "massive security assets" which had so far provided excellent protection to the British public.
READ MORE: 'Illogical' not to bomb Islamic State in Syria – Def. Secretary
"I wouldn't want to minimize [the threat]… But with the tragic exception of Lee Rigby, what has been notable has been our success in containing and oppressing the threat. What this tells me is that good intelligence activity can keep us safe," he said.
His comments follow the IS bombing of a mosque in Kuwait which killed 27 people and injured more than 200 others. The attack on the Shiite mosque displayed the extremist group's attempts to further create divisions within the Middle Eastern Islamic community.
On Monday, an IS spokesperson threatened Hamas, saying it would end the faction's rule in Gaza.
The 16 minute video, shared on social media, condemned Hamas for dealing with Iran and Lebanese Shiite group Hezbollah.
"The road to liberate Palestine goes through Iraq and we [IS] are getting closer, day by day ... while they [Hamas] are moving away from that goal," the spokesperson said.