​'Culture cleansing' ISIS could target British Museum artifacts, says outgoing director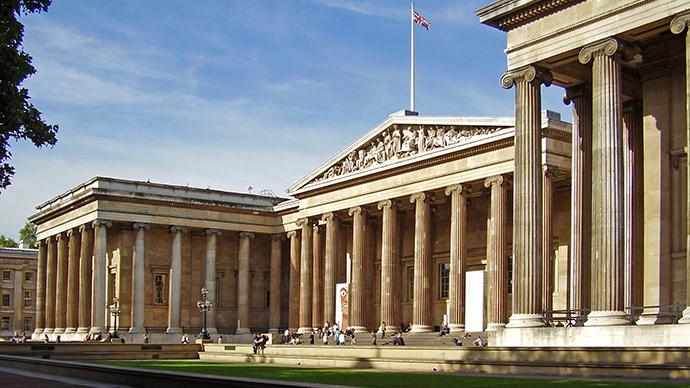 Ancient artefact collections at the British Museum are at risk of an Islamic State-inspired attack, according to the institution's outgoing director. UNESCO chief Irina Bokova has warned extremists are engaging in "culture cleansing."
Retiring Director Neil MacGregor said the British Museum, which is home to some of the world's finest Assyrian artefacts, must be prepared for "all eventualities."
In a speech at the London-based think tank Chatham House on Wednesday, Bokovo said the destruction of ancient heritage was a systematic strategy to "strike societies at their core."
IS has reportedly bulldozed and blown up dozens of ancient Assyrian sites – a policy Bokovo described as a "war crime" in an interview with BBC Four.
The British Museum's collection of Assyrian artefacts dates from the first millennium BC and contains several objects taken from cities which have since been attacked by Islamic State (IS, formerly ISIS/ISIL) militants.
Louvre curator Philippe Marquis said he agreed western museums were at risk of attack.
"We are now in a new world. What you are witnessing now is not going to finish tomorrow. What has been started now is going to have a long lasting effect," he told the BBC Four program 'Civilization Under Attack'.
READ MORE: British Museum 'protecting' stolen Syrian artifact until civil war ends
"We need to have long-lasting policy and strategy in order to cope with this problem," Marquis added.
"We have to think about all the eventualities," MacGregor said at the British Museum's annual review on Wednesday.
He added that museums have faced a "range of threat" in the past two years, which meant heritage institutions have had to consider how best to protect artefacts, many of which are viewed by IS as idolatrous.
The British Museum told The Times it has not increased security since widespread reports of IS destroying ruins in Iraq and Syria, but that it was constantly reviewing how best to secure its antiquities in London and on projects around the world.
"This is where we all came from, human history. And to see this nowadays destroyed, this cultural cleansing, [persecution], it's an affront to all of humanity, I think, not only to the people of Iraq," Bokovo told the BBC.
READ MORE: UNESCO nominated site in Mali destroyed by jihadists
"The deliberate destruction of a heritage is a war crime," she added.
In a speech at Chatham House on Wednesday, she described the actions of IS as "culture cleansing."
"Extremists don't destroy heritage as a collateral damage, they target it systematically to strike societies at their core. This strategy seeks to destroy identities by eliminating heritage and cultural markers," Bokovo said.
"I think the growing awareness that hard power will not be enough to defeat violent extremism is gaining ground. We need also soft power.
"Culture should be part of our response to violent extremism," she added.
You can share this story on social media: