​Mohammed cartoon exhibition in London to invite Geert Wilders as speaker, anti-Sharia group says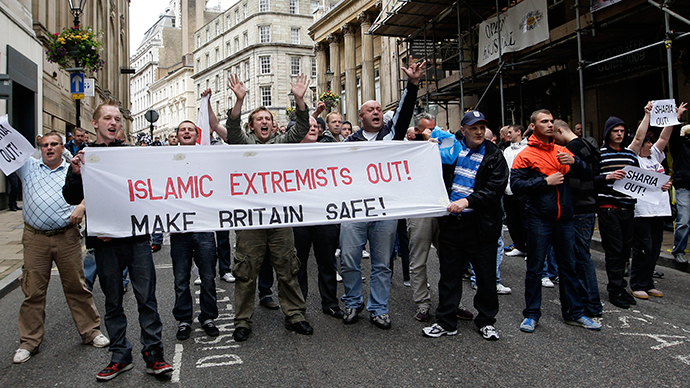 An anti-Sharia Law campaign group has announced plans to hold an exhibition in London featuring cartoons depicting the Prophet Mohammed.
Sharia Watch UK, along with "online satirical magazine" Vive Charlie, plans to stage the "Mohammed Cartoon Exhibit" somewhere in central London in September as a way to honor those who risk their lives for "free expression."
The exhibition, which will also feature far-right Dutch politician Geert Wilders as a guest speaker, will include cartoons of Prophet Mohammed submitted by artists and supporters of Vive Charlie.
Islamophobia watchdog Tell Mama has criticized the exhibition, claiming it is "not about free speech" but rather intended to "irritate and inflame."
Visual representations of Muhammad are seen as blasphemous by many hardline Muslims. Previous exhibitions featuring cartoons of the Prophet have been accused of Islamophobia.
Sharia Watch director Anne Marie Waters insists the event is about freedom of speech.
@TellMamaUK Muslims need to not give the reaction that is sought and expected. This is the primary goal. To show muslims in bad light.

— Alya Marquardt (@AlyaMarquardt) July 2, 2015
In a statement she said: "It is vital, in this era of censorship and fear, that we stand together in defiance and demand our right to free expression.
"We will not, and cannot, succumb to violent threats. The outlook for our democracy depends on the actions we take today. We owe it to future generations to pass on the freedom we have enjoyed."
Waters, who describes herself as a UKIP supporter, said "the aim is not offend people."
Sharia Watch UK's website bills the event as a way to "honor … the cartoonists, bloggers and artists around the world who risk their lives in defense of free expression, and of those who have been murdered in this cause."
Speaking to The Independent, Waters said she was not worried about a possible attack on the event.
"We're not really worried. We don't have the same level of violence here as there is in other countries – if we were doing this in the Netherlands I'd be more concerned, but we haven't had any threats so far."
READ MORE: Dutch anti-Islam politician Wilders shows Mohammed cartoons on national TV
She added: "You can't live in fear. The exhibition is an act of defiance, we're standing up and saying 'This can't go on.' Freedom of expression is very important, and that's what this is about."
In May, two gunmen opened fire on an exhibition in Garland, Texas, that featured cartoons of the Prophet Mohammed.
A security officer was injured in the attack, while Wilders, who was a guest at the event, was not harmed.
The two gunmen, later identified as Elton Simpson and Nadir Soofi, were both killed by police.
Tell Mama director Fiyaz Mughal criticized the upcoming London event for also inviting Wilders.
He said: "Inviting a man who is currently awaiting trial for racial hatred after vowing to make sure there were 'fewer Moroccans' in Holland is hardly the poster boy any sane or reasonable campaign wants to have as their keynote speaker."
READ MORE: 'Draw Mohammed' shooting suspect wanted to join ISIS, attack Super Bowl – prosecutors
"Let us not be fooled that this is about testing the boundaries of free speech. If they wanted that, they would do it without people like Wilders – and that says it all."
Wilders has come under fire in The Netherlands for using a government-allotted TV ad – similar to a party political broadcast – to broadcasting cartoons of Mohammed.
Speaking to the Breitbart London website, Wilders said: "Dutch television cannot stop us from showing the cartoons.
"Every party that is present in parliament has time to show themselves on national TV, and by law they cannot be prevented from broadcasting.
"Anyone can oppose the program, but only afterward, not before."
Wilders was banned from entering the UK in 2009 by then-Home Secretary Jacqui Smith on the grounds that the government opposed "extremism in all its forms." His ban was overturned later that year.