'UK spied on Merkel's Greek bailout plans and told NSA' – WikiLeaks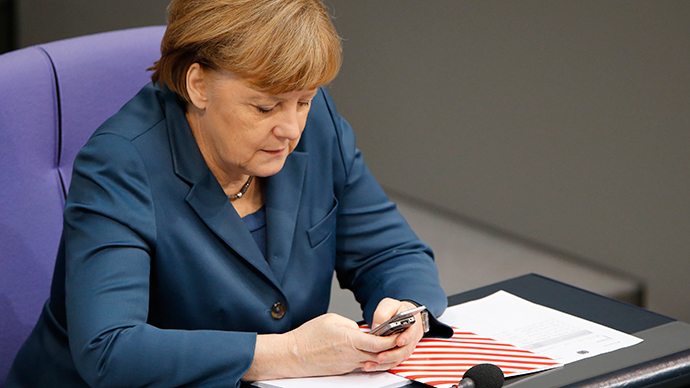 British intelligence agencies spied on German Chancellor Angela Merkel and other leaders as they discussed Greek bailout plans for European banks in 2011, WikiLeaks revelations suggest.
Phone calls from top German ministers, public officials and even Merkel's personal assistant were intercepted by the UK and shared with the US National Security Agency (NSA).
WikiLeaks claims the leaked cables reveal Merkel's personal skepticism about solutions to Greece's financial crisis and Berlin's support for a special IMF bailout for banks funded by the BRICS countries (Brazil, Russia, India, China and South Africa).
The cables, published Wednesday, also purport to show Germany's support for a Financial Transaction Tax (FTT) to be levied on banks, a move opposed by the UK and US.
WikiLeaks has not revealed the source for this latest round of intelligence. The publication follows thousands of cables leaked by former NSA contractor Edward Snowden.
Labeled "two levels above top secret," the reports on intercepted telephone calls were passed on to the NSA.
In some cases, the cables were shared with other nations belonging to the "Five Eyes" spying alliance – the US, Canada, Australia and New Zealand.
READ MORE: Merkel & Co: NSA also spied on top German ministers – Wikileaks
In one cable, Merkel expressed her doubts about solutions to Greece's debt crisis.
The cable states: "Discussing the Greek financial crisis with her personal assistant on 11 October, German Chancellor Angela Merkel professed to be at a loss as to which option – another haircut or a transfer union – would be best for addressing the situation."
The term "haircut" refers to "the losses that private investors would incur on the current net value of their Greek bond holdings."
"Merkel's fear was that Athens would be unable to overcome its problems even with an additional haircut, since it would not be able to handle the remaining debt," the report adds.
Merkel is also said to support a Financial Transaction Tax (FTT), something she allegedly thought would be "a major step toward achieving some balance in relief for banks."
"In that regard, the Germans thought that pressure could be brought to bear on the US and British governments to help bring about an FTT," the report states.
READ MORE: NSA intercepted French corporate contracts worth $200 million over decade – WikiLeaks
In another cable, France and Germany are described as supporting "a special IMF fund into which the BRICS … nations would pool funds for the purpose of bolstering Eurozone bailout activities."
Commenting on the leaks, WikiLeaks editor-in-chief Julian Assange said: "Today's publication further demonstrates that the United States' economic espionage campaign extends to Germany and to key European institutions and issues such as the European Central Bank and the crisis in Greece."
"Our publication today also shows how the UK is assisting the US to spy on issues central to Europe," Assange said.
"Would France and Germany have proceeded with the BRICS bailout plan for Greece if this intelligence was not collected and passed to the United States – who must have been horrified at the geopolitical implications?"
It previously emerged Merkel's phone was tapped by the NSA, a revelation which caused diplomatic friction between Germany and the US.
However German prosecutors recently dropped a probe into the case, citing a lack of evidence.
WikiLeaks also published a list of 69 German government telephone numbers which it claims are from a "high-priority NSA target interception list" started under the Clinton administration.
You can share this story on social media: