Merkel & Co: NSA also spied on top German ministers – Wikileaks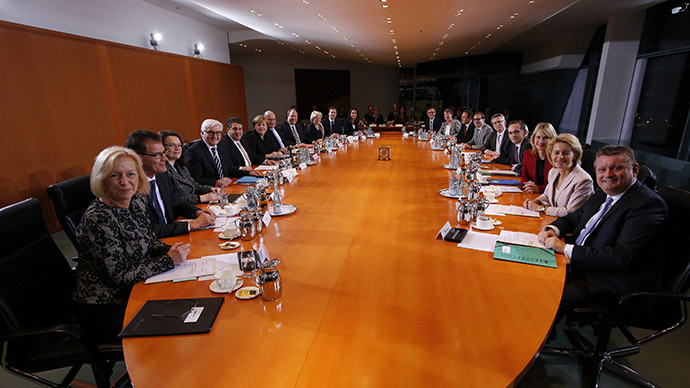 Chancellor Angela Merkel was not the only NSA target in the German government, as WikiLeaks has released a new tranche of documents containing a list of the phone numbers of German ministers and officials whose privacy was breached by the US spy agency.
Sixty-nine high-ranking members of the German government, including the economy and finance ministers, as well as Vice Chancellor Sigmar Gabriel and his deputy ministers, are featured in a "Target Office of Primary Interest" list created by the US National Security Agency (NSA) for the years 2010-2012, according to a WikiLeaks revelation, published on Wednesday. British intelligence agencies were also reportedly involved in the telephone interception.
READ MORE: 'Trojan Horse' in Bundestag: Merkel's computer reportedly spread virus in German parliament
"Today's publication further demonstrates that the United States' economic espionage campaign extends to Germany and to key European institutions and issues such as the European Central Bank and the crisis in Greece," WikiLeaks editor-in-chief Julian Assange said in the press-release.
The leaked information also revealed that communications between Angela Merkel and her personal assistant were intercepted by UK spies in October 2011. At that time, the two discussed possible solutions to the financial crisis in Greece, including a proposal to create a bailout fund sponsored by BRICS countries that Merkel was in favor of.
"Our publication today also shows how the UK is assisting the US to spy on issues central to Europe. Would France and Germany have proceeded with the BRICS bailout plan for Greece if this intelligence was not collected and passed to the United States – who must have been horrified at the geopolitical implications?" Assange added.
Reports on the matter made by the German newspaper Sueddeutsche Zeitung and broadcasting network ARD have triggered a new wave of outrage in a German society which had already been infuriated by the spying scandal caused by leaks from former NSA contractor Edward Snowden.
READ MORE: Germany BND chief to restructure agency following NSA spying scandal – report
However, a spokesperson for the German government told Sueddeutsche Zeitung that "A federal government's evaluation is not possible without deeper knowledge of the essential facts."
The German foreign intelligence agency, BND, was reportedly cooperating with the NSA in extensive joint surveillance of European targets.
The investigation into the NSA's tapping of Merkel's phone was closed in June.
According to German prosecutors, "The documents published in the media so far that come from Edward Snowden also contain no evidence of surveillance of the cellphone used by the chancellor solid enough for a court."
In May, WikiLeaks revealed a similar set of documents concerning France. It showed that the NSA had spied on the last three French presidents and other government officials.
You can share this story on social media: