Outrage as Heathrow Airport expansion wins official backing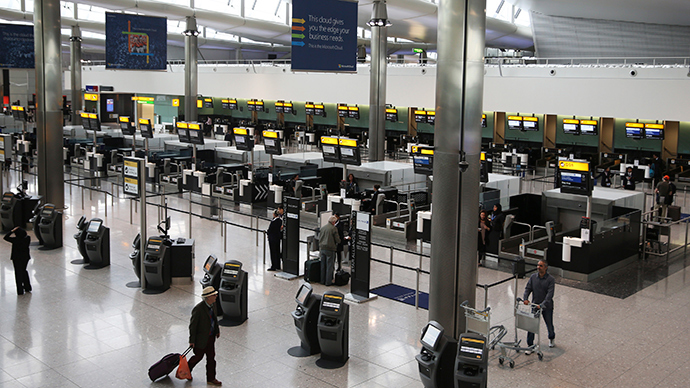 Climate activists and politicians have reacted with outrage to a report championing London Heathrow Airport as the ideal site for a new runway. Critics say expanding Britain's biggest airport will result in greater noise and air pollution.
The report, by the Airport Commission, suggests a new runway should be built at the southwest London airport on the condition it meets strict new orders on pollutants.
On Wednesday morning the Commission chaired by Sir Howard Davies called its support for a new Heathrow runway "clear and unanimous," saying the airport's plan was the strongest and would prove most beneficial to the economy.
READ MORE: Stowaway falls to death in London after plane wheel ride from S. Africa
The new runway would have to observe strict new rules including no scheduled flights between 11:30pm and 6:00am, a legally-binding "noise envelope" and a community engagement board to involve local residents.
The report comes five years after the government scrapped plans to build a new runway at Heathrow following a mass campaign by politicians, celebrities and activists.
Following its publication, MPs and other opponents attacked the findings.
London Mayor Boris Johnson told the BBC a new runway would be "catastrophic" for the environment, likening the construction to "the sort of thing you could have got away with in China in the 1950s."
He told the BBC's Today program a third runway would be a "precursor" for a fourth runway built in the future, adding the environmental impact of the construction would be "so huge" it would be "not deliverable."
When asked whether he would stick by his pledge to lie in front of bulldozers if planning was approved, he said, "As it happens, I don't think my services as a bulldozer blocker will be required for decades, if ever."
Tory MP and London Mayoral hopeful Zac Goldsmith accused Davies of presenting a biased view, and claimed he always had the intention of supporting Heathrow expansion. He said Davies had "blown £20 million [US$31.3 million] preparing a very elaborate introduction" to it.
READ MORE: Planes carrying VIP passengers may get priority landing at UK airports
The report will come as a blow to Prime Minister David Cameron, who pledged in 2010 there would never be another runway built at the airport.
Another Tory MP told SunNation that Cameron would have to consider the report carefully.
"The PM knows there is not a cat's chance in hell he can allow it to be Heathrow, no matter what the best advice is, because it would split the Cabinet in two," they said.
"He has also made an election manifesto promise in the past not to touch Heathrow and he'd be going back on that too.
"The reality is the decision to expand at Gatwick has already been made," they added.
The conclusion of Davies report is likely to anger activists, including Greenpeace, who successfully campaigned against the runway in 2010 by buying off a strip of land to prevent building work happening.
They later sold the land, which was co-owned by the charity, its members, MPs and high-profile activists including Emma Thompson, after they were assured a runway would never be built.
"The two most senior politicians in the country had given their word that the project wouldn't go ahead, and everyone took that to be the end," they wrote of the decision to sell it.