Exeter city center evacuated in double bomb scare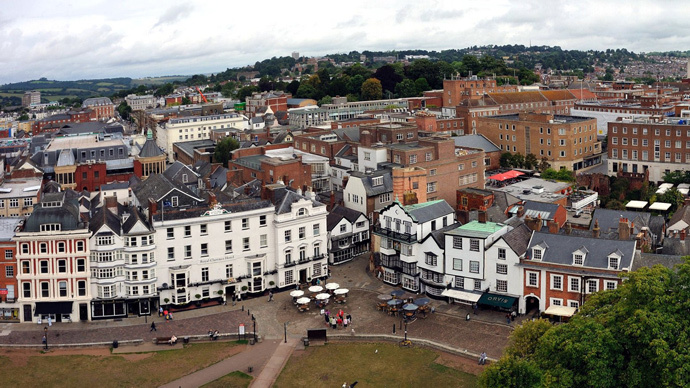 A number of streets in the historic southern English city of Exeter were evacuated on Monday morning after the discovery of two suspicious packages.
Devon and Cornwall police said fire and ambulance services and bomb disposal experts were called in to help deal with the emergency, which began with the discovery of one package outside a local primary school.
Officers were called to St Sidwell's primary school at 6.55am where a package was found tied to the school railings by caretaker Brent Hibbs, head mistress Kathryn Rowden said. She added Hibbs had seen wires when he looked inside the package.
The school was evacuated and pupils were moved to a chapel, where parents collected them. Police closed both ends of the street.
A second package was found at 9.15am on a nearby street, causing in the evacuation of properties in the area and further street closures.
The disruptions caused delays to local bus and train services.
READ MORE: Tunisia massacre: May condemns 'despicable act of cruelty,' pledges to defeat extremism
A police spokesperson later said the second package had been dealt with, following an examination by the bomb disposal team.
The first is expected to be sorted out later on Monday afternoon.
"The scene cordons on both King William Street and York Road are now reduced to 100 meters as a result," the spokesperson said.
"Road closures around the city center remain to ensure the matter can be safely resolved and the police-led multi-agency response to the incident continues. Police continue to ask people to avoid the area if at all possible and not drive into Exeter city center."
Rowden said the children's safety was the school's primary concern.
"Obviously our first thoughts were for the safety of the children and staff," Rowden said.
"Our staff did an excellent job in evacuating the children quickly and efficiently. I want to thank our parents for their support and the children for taking this all in their stride."
The evacuated roads were re-opened at 4.10pm on Monday afternoon.
Police thanked residence for their cooperation.
Exeter, Mid and East Devon Commander Superintendent Keith Perkin said: "Today's events have caused considerable impact to residents and business across the city.
"We don't under estimate how difficult road closures and evacuations can be for local people, but safety of all our communities remains paramount.
"I'd like to thank all of our communities and partner agencies for their role in what has been a professional and proportionate response to today's incident."
Exeter witnessed an attempted bombing in 2008, when a 22-year-old accidentally detonated his homemade nail-bomb in the toilet of a local Giraffe restaurant.
Nicky Reilly was the only one injured when his bomb exploded, but he pleaded guilty to attempting to attack members of the public.