Lord Janner faces prosecution over alleged child sex abuse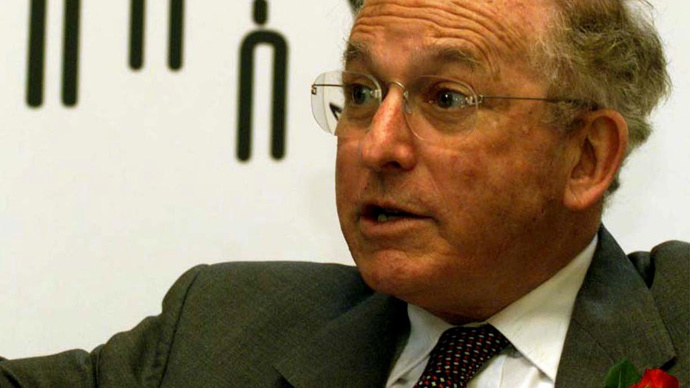 Lord Janner will stand trial over alleged historical child sex abuses, the Crown Prosecution Service (CPS) has announced.
The decision overturns a previous ruling which saw the 89-year-old peer exempt from criminal proceedings due to the onset of Alzheimer's disease.
In a statement, the CPS confirmed the Director of Public Prosecutions (DDP) Alison Saunders would pursue "criminal proceedings against Greville Janner for child sex offences."
The decision to reverse Janner's immunity came through the "recently introduced" Victim's Right to Review scheme "which allows victims to have their cases looked at again, no matter who in the CPS made the original decision not to prosecute."
READ MORE: Janner 'violated, raped & tortured' children on Westminster Palace estate, MP alleges
Janner is expected to stand trial on August 7 at Westminster Magistrate's Court.
This trial will mark the first time Janner has faced any criminal proceedings for the 22 alleged offences which took place between 1969 and 1988.
The total charges against the peer include 14 indecent assaults on a male under the age of 16, four counts of gross indecency with a male under the age of 16, two counts of indecency and two further counts of gross indecency.
He was suspended in 1997 after the CPS produced evidence against him.
A former QC, Janner is reported to have had cross-party support when he was initially accused of child abuse by a convicted child-abuser in 1991.
Following the Second World War Janner sat on a number of committees associated with Judaism, including the Board of Deputies of British Jews and was a prominent campaigner in the efforts to gain reparations for victims of the holocaust.
He is one of a number of high-profile politicians who have become embroiled in the historical sex abuse scandal which alleges that "VIP" pedophilia ring was present within the Palace of Westminster during the 1980s.
Victims of the alleged offences said they received letters on Saturday notifying them that Janner would stand trial.
The Lord Janner scandal grows daily more toxic. @SimonDanczuk is one of the few parliamentarians worthy of the name

— George Galloway (@georgegalloway) June 23, 2015
"It shouldn't have taken this long – 45 years for some – to get to this point. Saunders should go because she has tried to stop the truth from coming out," one alleged victim, who asked to remain anonymous, said.
MP Simon Danczuk, who previously used parliamentary privilege to call for Janner's prosecution, said Saunders should step down after it was revealed the decision not to prosecute had been reversed.
It is an indictment of our system that it took so long, but a step forward that Lord #Janner will face trial.

— Natalie Bennett (@natalieben) June 29, 2015
"All suggestions are that Saunders reached the wrong conclusion in April and this is not the first time she has made a major mistake," he said. "She has struggled in some of her decisions to pursue journalists through the courts, too. Her job is all about judgment," he said on Friday.
The statement from the CPS however, adds that while Janner will stand trial, he is unlikely to be found fit to enter a plea, meaning he would be unable to challenge or give evidence during a trial.
"Therefore the most likely outcome of a 'trial of the facts' would be an absolute discharge, which is neither punishment nor conviction," it said.