​'War criminal' Rwandan spy chief freed on £1mn bail, thanks to Cherie Blair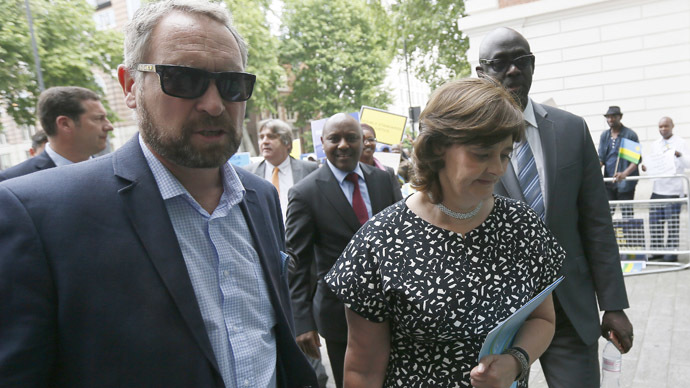 Cherie Blair, wife of former Prime Minister Tony Blair, has helped free a Rwandan spy chief arrested in London over alleged war crimes in the aftermath of the 1994 genocide.
She was seen giving instructions to barrister Mark Summers QC during an extradition hearing at Westminster Magistrate's Court on Thursday.
General Karenzi Karake, who was visiting the UK to meet the head of MI6, stands accused of ordering massacres in the aftermath of the 1994 Rwandan genocide and the murder of three Spanish and two British aid workers.
The director general of Rwanda's National Intelligence and Security Services (NISS) was detained in Heathrow airport on Saturday under a European Arrest Warrant issued by Spain, who indicted him in 2008.
Cherie Blair's law firm Omnia Strategy represented the Rwandan government at the hearing, which granted Karake bail under a bond of £1 million (US$1.57 million).
The spy chief must hand over his passport, is banned from possessing travel documents and must not travel outside the M25, which rings London.
He was visiting the UK to meet with MI6 chief Alex Younger but the meeting was canceled at the last moment, the BBC reports.
Is the fact that Cherie Booth (aka Mrs Tony Blair) is representing Rwandan spy chief in the UK connected to Blair's connections to Kagame?

— Ben Taylor (@mtega) June 26, 2015
Karake's supporters applauded loudly as he was brought into the dock of a packed court wearing a bright yellow-and-green jumpsuit.
The general is hailed in Rwanda as one of the people who stopped the 1994 genocide, in which up to a million Tutsis and moderate Hutus were murdered by the Hutu majority.
However a Spanish prosecution accuses him of taking part in massacres in the immediate aftermath of the mass killings.
He is also charged in connection with the killings of British Catholic missionary Chris Mannion in 1994 and UN aid worker Graham Turnbull in 1997, in addition to three Spanish aid workers from Medicos del Mundo.
READ MORE: Rwandan spy chief arrested over war crimes was in UK to meet British agents
Summers, barrister for the general, told the court Karake should be granted bail because he was a man of "impeccable character."
"He's not a rogue army officer, he's a senior member of a respected and democratic government," the lawyer said.
Summers added that the Rwandan government had already investigated the deaths of Spanish citizens in the Rwandan genocide.
Rwandan Foreign Minister Louise Mushikiwabo described the arrest as an outrage and accused the British of "arrogance and contempt."
Earlier this year, the UK Foreign Office said documents relating to Tony Blair's relationship with Rwandan President Paul Kagame must remain secret after rejecting a Freedom of Information request by The Times.
Blair has been an outspoken defender of Kagame's regime. His charity, Africa Governance Initiative (AGI), calls the country one of Africa's "success stories," despite a UN report accusing the government of war crimes in the Democratic Republic of Congo.
This is not the first time Cherie Blair QC has helped represent political figures accused of human rights abuses.
Omina Strategy came under scrutiny when it signed a controversial deal with the Maldives government last week.
READ MORE: Blair's links to Rwandan President Kagame must remain secret – Foreign Office
The firm is to advice President Abdulla Yameen's government on "democracy consolidation," an agreement which has sparked outcry in the country where Yameen has been accused of suppressing political dissent.
Leader of the opposition Hamid Abdul Ghafoor said: "It is hard to believe that Cherie Blair would want to keep company with such thugs of ill repute."
"It is unethical for Blair to work for this regime. No doubt she is being paid a small fortune, to help wash the blood off Yameen's reputation.
"In hiring Blair, Yameen appears to have hired the most unethical and profiteering mercenaries money can buy. Is there anyone Blair won't work for?"