​CCTV captures armed robbers storming Manchester jewelers (VIDEO)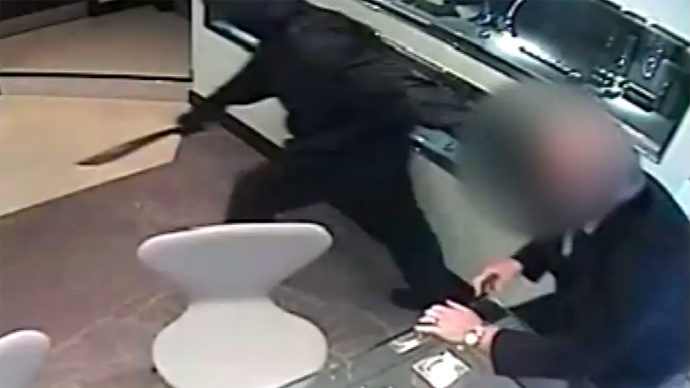 Dramatic footage of armed robbers breaking into a jewelry store and terrifying staff has been released by police. It shows a gang of four balaclava-clad men using a battering ram to smash down the door of a Manchester jewelers.
The attackers swarm into the shop and attempt to force open glass cabinets with a variety of tools.
Greater Manchester Police are appealing for witnesses to the crime, which took place on June 10 at 12.20pm BST.
The frightening CCTV footage shows one robber brandishing a machete at staff before grabbing a worker and dragging him from room to room.
Another raider is seen wielding an axe and rushing to the rear of the shop.
Midway through the video white smoke suddenly fills the room as the store's security system is activated.
The assailants are forced to flee the building and can be seen running out of the main door in broad daylight.
Police say the robbers escaped with 13 watches worth £186,820.
During the robbery, they used a metal bar to prevent automatic security shutters from coming down.
The shop's security guard was pushed inside and ordered to lie on the ground, police said.
After the robbery, the gang escaped in a getaway car at high speed.
The gang's vehicle was later found abandoned on Ashworth Close, Bowdon. Police believed they transferred to a second getaway car, a white Mercedes which was parked on Hopkins Field, Bowdon.
READ MORE: Police engage in high-speed chase and shootout against Moscow 'robber gang' (PHOTOS, VIDEO)
Detective Inspector Carl Gilbert said police are still searching for suspects.
"Detectives are still appealing for anyone who may have witnessed the heist itself, or the offenders in the act of escaping to contact us," he said.
"Also, new information has suggested that these men changed vehicle into a white Mercedes once they had arrived in Bowdon, which offers us another chance to possibly track these men.
"We believe they may have changed car at around 12.45pm on Wednesday 10th June 2015, so we would like to ask anyone who may have been in the area at the time to contact police," he added.
The crime follows a high profile jewelry heist at Hatton Garden in London last month.
Three pensioners, including a 76-year-old second-hand car salesman and his 50-year-old son, are among nine British men who have been arrested on suspicion of committing the daring theft.
Some reports indicate the robbers stole goods worth as much as £200 million.