Massive anti-austerity march in London mounts biggest challenge to Tory cuts (VIDEOS, PHOTOS)
Hundreds of thousands of people took to the streets of London on Saturday in the UK's biggest anti-austerity rally for years to oppose the new Tory government's program of social benefit cuts and privatization. A reported 250,000 attended the rally.
WATCH LIVE: Anti-austerity rally in London http://t.co/8H5hDvrnklpic.twitter.com/M7uFYuKXbw

— RT (@RT_com) June 20, 2015
People flocked to the British capital from across the country this weekend, with over 80,000 people having confirmed their intention to attend the major demonstration on social media. Neither police nor organizers had an immediate estimate for the number of protesters, but organizers have expected attendance of up to and over 70,000 people.
There have been unconfirmed reports that a quarter of a million people attended the rally.
Turns out it wasn't 70,000 who marched against austerity... It was 250,000. #EndAusterityNowpic.twitter.com/j7uCXcpQWY

— George Aylett (@GeorgeAylett) June 20, 2015
Having started at 12 noon local time, the protesters gathered near the Bank of England in London's financial district, to then march through the streets of central London toward the Parliament.
On top of an #FBU truck reporting on #EndAusterityNow march! Crowds as far as eye can see. Watch live on @RT_compic.twitter.com/HDcDBKLZtg

— Daniel Hawkins (@DanhawkinsDh) June 20, 2015
"Sheer diversity of people" gathered to protest against British government austerity programs and spending cuts, RT's UK correspondent Daniel Hawkins reported. The rally united people "from a huge variety of backgrounds," all angry about cuts to the public spending and public services.

#london#NoMoreAusterity rally at Bank of England - streets packed, main march not even started #junedemo #... https://t.co/TcSLkPxbog

— Daniel Hawkins (@DanhawkinsDh) June 20, 2015
Organized by The People's Assembly Against Austerity, an umbrella group with support from trade unions, anti-war protesters and some Labour and Green Party politicians, the march sees a heavy presence of left-wing activists, but also includes a lot of ordinary workers, people from the public sector, private sector and trade unions.
#sistersuncut at #NoMoreAusterity rally #londonhttps://t.co/xDR5kcIQJE

— Daniel Hawkins (@DanhawkinsDh) June 20, 2015
Activists have been carrying banners reading "No Cuts," "No More Austerity," "Cut War Not Welfare" and "Get the Tories Out" among others, Sputnik news agency reported.
"We struggle for every pound," "the government... is taking money away from us all the time," and "it's very disturbing to think where it's going" protesters told RT.
READ MORE: 'Race to the bottom': £15bn welfare cuts will cause 'enormous hardship,' says economist
Anti-nuclear activists and union leaders joined the demonstration, Sputnik reported local media as saying.
Black Bloc activists chant during London anti-austerity rally LIVE NOW: http://t.co/vzyu5jshTo#EndAusterityNowhttps://t.co/clmZiJgmD9

— Ruptly (@Ruptly) June 20, 2015
"What's happening is the people who are dependent on state benefits, which is generally people who are very poor, disabled, sick, people with children, people who can't afford to pay their rent – all of those people will be directly hit [by the government policies]. But it's all going to affect a much wider group of people," Lindsey Ann German from the Stop the War coalition, who stood twice as candidate for Mayor of London, told RT.

" we won't be turned against one another, black against white, Muslims against Christians we won't have it"

— People's Assembly (@pplsassembly) June 20, 2015
Demanding a change of policy, German suggested money should be taken "from the corporations, from the rich rather than from the people who really can't afford to give it."
READ MORE: Military chiefs secretly lobby Osborne to protest defense cuts
Saturday's march was intended to be peaceful. A small number of protesters let off red-colored smoke flares, but the rally has been almost universally good natured, Reuters reported.

The march is massive and good natured. Unlike the Tory party #endausteritynowpic.twitter.com/KUxfb0Xxm3

— Jacky Davis (@DrJackyDavis) June 20, 2015
The rally was addressed by left-wing politicians, union leaders and celebrities, including Labour leadership candidate Jeremy Corbyn, who got huge cheers from the crowd as he attacked Tory cuts to public spending and promised to fight against austerity and scrap Trident if elected.
Comedians also spoke, with Mark Steel attacking Work and Pensions Secretary Ian Duncan Smith for axing benefits for the poor, and Russell Brand apologizing for his support for then-Labour leader Ed Miliband.
Ahead of the protest, several people suspected of offenses in previous demonstrations have been reportedly arrested. Citing sources, The Guardian said the Metropolitan Police started a crackdown on activists, preventing them from participating in Saturday's protest.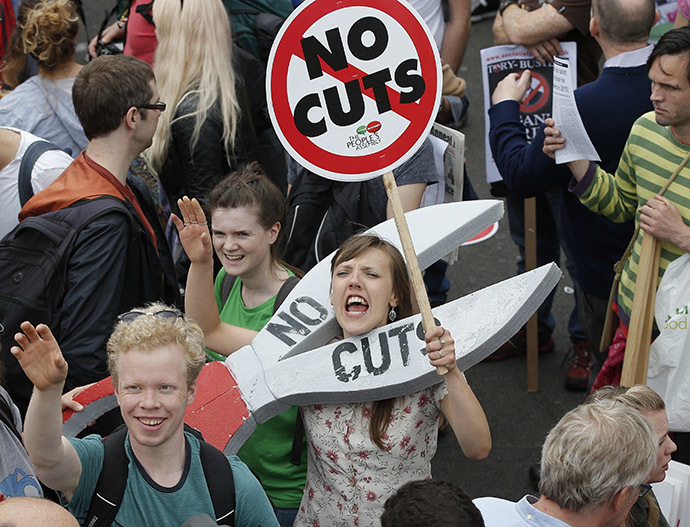 "There seems to be a massive crackdown. There is some sort of political motivation behind all of this," an activist with anarchist group Class War, Lisa McKenzie, was quoted as saying by the Guardian.
READ MORE: Nearly 25% of Welsh people in poverty, damning report reveals
READ MORE: What can UK voters expect from Tory majority govt?
The event's organizers say Saturday's march will only be the start of a major nationwide campaign. "It will be the start of a campaign of protest, strikes, direct action and civil disobedience in the country. We will not rest until austerity is history," Sputnik quoted Sam Fairbairn, of the People's Assembly, as telling UK media.
A number of anti-austerity protests have been happening since national elections in May, when the Conservatives were unexpectedly reelected with an outright majority. People have been taking to the streets against Tory policies, with demonstrators being angry at public sector cuts meant to address government deficits.
READ MORE: 'Misery for millions': CBI backs more austerity, despite slashing GDP forecast
In 2010, the party introduced a five-year austerity program, having led a coalition focused on cutting public spending. It was recently announced the government would adopt a further approach to reducing the national deficit, that would include extra welfare and spending cuts.