Military chiefs secretly lobby Osborne to protest defense cuts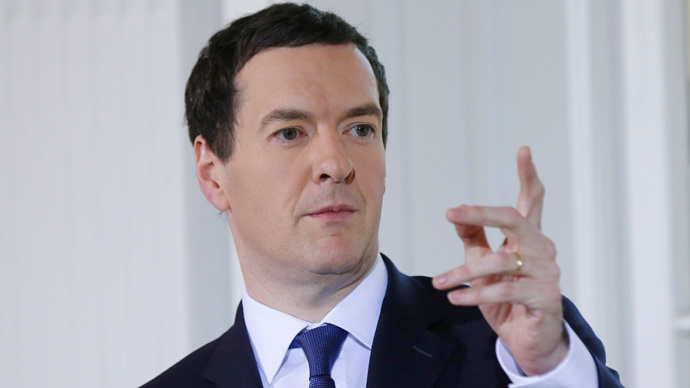 At a secret meeting Friday, defense chiefs are said to have lobbied Chancellor George Osborne to leave their offensive capacity intact rather than implementing deep spending cuts to military budgets, according to reports.
READ MORE: Chancellor Osborne demands extra £1bn UK defense cuts
The Chief of the Defence Staff and the heads of the Army, Navy and Air Force are alleged to have said: "If you want us to do the job, you need to give us the firepower."
If true, their efforts appear to be an attempt to counter planned Tory military cuts of up to £1 billion announced by Osborne late last month.
However, it has been alleged that Osborne has no intention of going along with the military chiefs' plans.
The Politics Home website cited an anonymous Tory source, who is alleged to have said: "Number 10 is not overly enamored with the generals, and the Chancellor is trying to head off the whining by spending time with the military chiefs."
The defense chiefs' efforts to reduce military cuts come a day after Julian Lewis MP was elected chair of the influential Commons Defence Select Committee, replacing fellow Conservative Rory Stewart.
Lewis is an outspoken critic of military cuts and has previously said defense austerity would leave Britain "enfeebled."
READ MORE: Govt deems security risks too low to 'exempt defense from austerity,' says think tank
Military cuts became a hot topic in the build-up to the general election last month, but despite considerable media hype, the row culminated in a sparsely attended debate in parliament.
Despite months of back and forth between Cabinet members, backbenchers, military figures and US officials on British defense spending, the Conservative government is unlikely to bow to pressure.
In March it was claimed in a report by the Royal United Service Institute (RUSI), a leading security think tank, that the government did not believe current threats justified ring-fencing the defense budget, in spite of rhetoric about Islamist terror and a "resurgent" Russia.
The paper, which centered on the economics of defense under austerity, concluded: "The government is not yet convinced that strategic security risks are high enough to justify an exemption for defense from austerity."