​Thatcher's Falklands memoir reveals she was outraged by peace talks, attacked BBC neutrality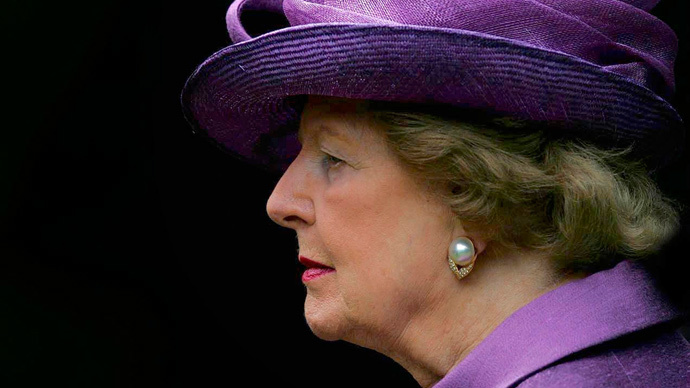 Margaret Thatcher was outraged by her foreign secretary's efforts to broker an end to the Falklands War, which cost the lives of 255 British service personnel, a newly-published memoir by the late Conservative leader reveals.
Written a year after the war, the 17,000-word memoir has been made available online for the first time. Arts Council England has called it "probably the single most significant historical document Margaret Thatcher ever wrote."
The controversial former prime minister, who died in April 2013, also claims to have experienced enormous anguish over the deaths of service personnel.
READ MORE: Argentine minister challenges Cameron over Falklands/Malvinas
Of her Foreign Secretary Francis Pym, who she suspected of trying to outmaneuver her and work with the US to avoid hostilities, she wrote: "This was to be one of the most crucial days in the Falklands story and a critical one for me personally.
"Early on Saturday morning Francis came to my study in No 10 to tell me the results of his efforts. The document he brought back was a complete sellout."
Pym, she wrote, agreed with the Americans, who were "skeptical about our capacity to achieve a satisfactory military solution and thought international support would evaporate quickly after the first shot had been fired."
She feared that if the peace deal had gone before the War Committee and been accepted she "could not have stayed" as prime minister.
She also blasted the BBC for their coverage of the war, writing: "They were sometimes reporting as if they were neutral between Britain and Argentina.
"At other times we felt strongly that they were assisting the enemy by open discussions with experts on the next likely steps in the campaign."
READ MORE: UK spied on Argentina over alleged new attempt to take Falklands – Snowden leak
She wrote of her feelings about the deaths of British troops in the war: "In fights for liberty we lose our bravest and best."
"How unjust and how heart-breaking. And at No 10 one was protected and safe – one felt so guilty at the comfort."
Recent tensions over the South Atlantic islands have come to the fore over the presence of British oil exploration firms in the region. Argentina is currently in the process of suing three UK firms over their activities.
The row has also seen the UK increase the number of military assets on the islands, announcing in April that two Chinook helicopters, withdrawn in 2006, would be redeployed.
The current Defence Secretary, Michael Fallon, has also pledged to spend £180 million over the next 10 years on upgrading Falkland Islands defenses.