​Young UK Muslims join ISIS to 'escape sexual frustration' - documentary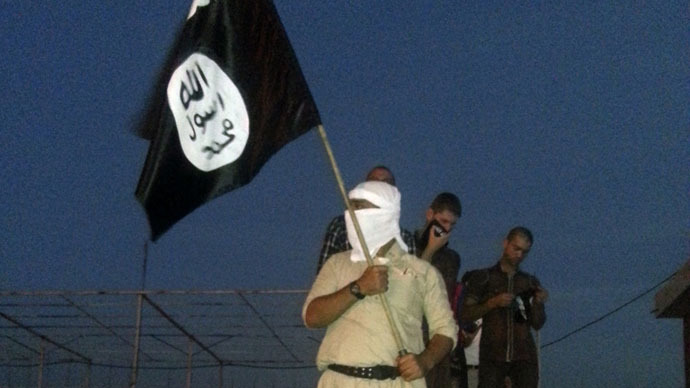 Sexual hunger and an uncomfortable environment might be the factors that push young UK Muslims to join Islamic State, a new British documentary suggests.
Deeya Khan, activist and Emmy Award-winning filmmaker, had her two-year investigation into the origin of growing Muslim extremism in Europe.
In her documentary "Exposure: Jihad" Khan explores why some UK Muslims choose to embrace extremism and step into the holy war in Syria and Iraq.
@Deeyah_Khan Excellent. Thank you for not adding fuel to the fire.

— Suleymaan Arshad (@SuleymaanArshad) 15 июня 2015
She thinks that often young Muslims living in the West feel angry and alienated, they face discrimination and have identity crises, while Islamic State is ready to accept them just as they are and gives them an opportunity to become someone.
In an interview to the Daily Beast Khan says that male immigrants from South Asia felt uncomfortable with open western sexuality. That, in return, sometimes led them to abuse their children or repress their sexual urges.
READ MORE: 3 sisters & their 9 children missing, feared to have joined ISIS
"Nine times out of 10, look to the dad and you're gonna find he did something; beat them… I would blame the fathers, absolutely." she said.
Khan interviewed a former Islamist, Alyas Karmani, who believes that the growing gap between two generations of Muslim families living in the West often pushes young Muslims into hostile environments. He explains that Muslim youngsters live in the same sexualized society as their non-Muslim peers, but they are usually told by their parents that sex before marriage is forbidden.
"There's a real sense of hate that you have, that I can't do that," he says in the documentary.
"And that's why I find a greater sense of sexual dysfunction sometimes in Muslim communities."
Got to say last night's documentary by @Deeyah_Khan#Exposure: Jihad- A British story on Itv was very compelling. Definitely worth a watch.

— rafi (@morafi) 16 июня 2015
He then explains why sex is one of the main reasons Muslims turn to Islamic State, also known as ISIS/ISIL. According to Karmani, they just want girls and joining ISIS gives them the promise of a release for their sexual frustration.
READ MORE: Brits associate Muslims more with terrorism than religion, poll indicates
"I'm there with my gun, which is more or less just a penis extension, out there. Look at me, I'm a mujahid now… I'm powerful now, I'm sexy now, girls are going to look at me, and there're girls who would wanna become my bride now." he says.
Likewise, Muslim girls often do not have the freedom to choose their future husbands. Khan believes that ISIS promotes an image of very good-looking men and that might be on purpose. Girls are in awe with this idealistic image of Muslim men trying to sacrifice their own lives for the suffering people of Syria.
This documentary on #ITV#Exposure : #Jihad A #British Story by @Deeyah_Khan AMAZING work, much needed, must see! https://t.co/Md7xaGyYxp

— Jamila Hanan (@JamilaHanan) 16 июня 2015
She believes that the heroic part associated with jihadism combined with handsome images makes joining a kind of independent step for Muslim girls. They feel like they can make their own choice as they decide to leave and marry the ideal guy.
You can share this story on social media: