Britain must take more refugees – UN representative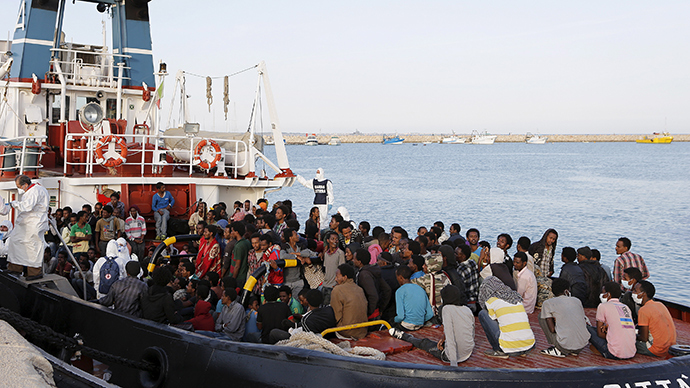 Britain must take responsibility for its fair share of migrants and refugees deluging Europe from the Mediterranean, a United Nations representative has said.
UN Special Representative for International Migration Peter Sutherland said "nearly all" of those attempting to arrive by boat from Syria or Eritrea should be treated as refugees rather than immigrants, adding the UK should take more migrants as part of a "fair" solution to the problem.
Sutherland told BBC Radio 4 that both Sweden and Germany are already taking more migrants per capita than Britain. He argued the reason UK residents were so opposed to taking more refugees was because their case had never been fully explained.
"In the case of Eritrea or for that matter in the case of Syria, nearly all of those who have left are people who are persecuted or facing persecution and therefore entitled to remain in the country of destination that they end up in Europe," he said.
READ MORE: Italy threatens to 'inflict wounds' on EU if no 'solidarity' in migrant crisis reached
READ MORE: 'Water cannons, warning shots': Turkish border guards push back Syrian refugees
"And at the moment there is a huge disparity in the numbers that different countries are taking. On any basis, the Germans and the Swedes are taking far more per capita than the United Kingdom."
Sutherland said there was "a greater degree of negativity towards the migration issue" in Britain because "the case has never been properly explained."
The special envoy's remarks come days after Italian Prime Minister Matteo Renzi said the country would "hurt" Europe if it failed to help tackle the migrant crisis currently washing up on Italian shores.
Many hundreds of migrants attempting to seek refuge in Europe end up in Italy, and due to a recent crackdown on security at the French and Austrian borders, many refugees have become stranded at Italian train stations.
Renzi said the influx of migrants "should not be underestimated," adding "Europe's answers so far have not been good enough."
The European Union is attempting to solve the crisis, but has yet to achieve a consensus for the plan to redistribute 24,000 migrants within other countries.
The Italian government is hoping the final outcome will re-home even more.
"Redistributing just 24,000 people is almost a provocation," Renzi said.
"If Europe chooses solidarity, good! If it doesn't, we have Plan B ready. But it would first and foremost hurt Europe," he added.
Italian Interior Minister Angelino Alfano told Sky TG24: "I cannot reveal our Plan B. But if Europe is not supportive, it will find itself dealing with a different Italy. We will not accept a selfish Europe."