'Water cannons, warning shots': Turkish border guards push back Syrian refugees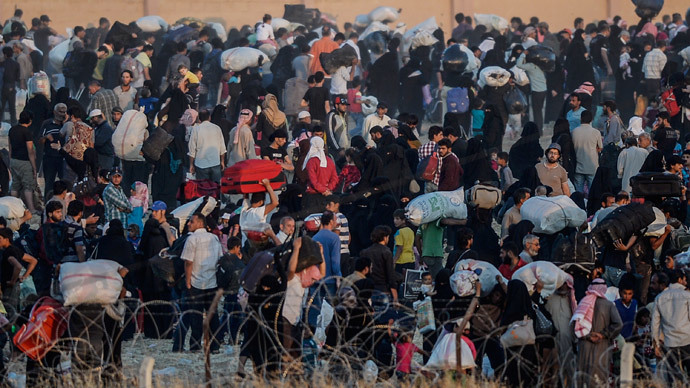 Turkish security forces have reportedly fired warning shots and used water cannons to push Syrian refugees back from the frontier, as hundreds rushed to a Syrian-Turkish border crossing hoping to escape fierce fighting between Kurds and jihadists.
The Syrians, women and children among them, were allowed no further than the barbed wire fences around the Turkish crossing of Akcakale in the southeast of the country, AFP reported. Most of the women arriving from the Islamic State-controlled town of Tal Abyad wore full-face veils, and many were carrying sacks of possessions on their head.
Several masked men looking like Islamic State (IS, formerly ISIS/ISIL) fighters dressed in battle clothing and carrying rifles reportedly approached the fence on the Syrian side of the border on Saturday evening. At this point, some Syrians started to move back in the direction of Tal Abyad. However, minutes later, all the refugees had moved back to the border fence to spend the night, AP reported.
On Sunday, however, AFP reported Akcakale border crossing opened to the refugees with dozens passing and thousands awaiting their turn on the Syrian territory.
#Raqqa Turkish forces watch as Syrian refugees wait on the Syrian side of the border in order to cross into Turkey pic.twitter.com/JiPhrB6EsU

— الرقة تذبح بصمت (@Raqqa_Sl) 13 июня 2015
According to the Turkish Foreign Ministry, in the past 10 days over 13,000 refugees have already crossed into Turkey, fleeing conflict-torn Syria, where IS militants and forces loyal to President Bashar Assad are fighting.
Turkey plans to cut down the flow of Syrian refugees. On Wednesday, Deputy Prime Minister Numan Kurtulmus said Ankara has been allowing crossings through Akcakale, but this will not continue as "there is no longer a humanitarian tragedy," according to the Hurriyet Daily.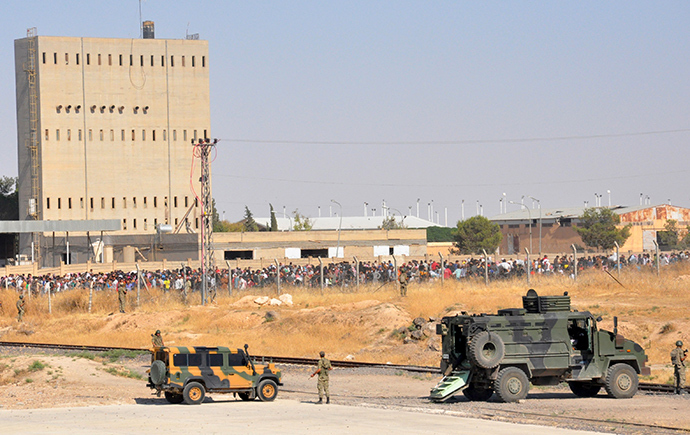 Turkey has taken in 1.8 million Syrian refugees since the conflict in Syria unfolded in 2011, spending nearly $5.5 billion to provide for the displaced.

A statement from the Syrian Kurdish forces, known as the YPG, said IS militants have "lost control" of the town of Suluk, adding Kurdish forces were advancing toward the strategically important town of Tal Abyad, a key link between Turkey and the northern Syrian city of Raqqa.
According to AP, it also stated that the road linking Tal Abyad with the extremist group's stronghold of Raqqa (the de-facto capital of the Islamic State group's self-declared caliphate) was also under YPG control. Despite the Kurdish breakthrough, the black flag of IS could still be seen flying over the town of Tal Abyad, AFP reported.

The UK-based Syrian Observatory for Human Rights said the Kurds were less than 10 kilometers from Tal Abyad, which is used by IS as a major channel of commerce. From here it smuggles in foreign fighters and sells oil on the black market.
Turkish Army closes border on Syrian refugees & watches as smiling ISIS jihadists collect them as human shields pic.twitter.com/JTUUss4FZg

— Azad Kurdistan (@mrgoldfink) 13 июня 2015
Since May, the YPG have won back over 200 Kurdish and Christian towns in northeastern Syria, and strategic mountains seized earlier by the IS group.

The so-called Islamic State still has about a third of Iraq and Syria under its control, including Iraq's second-largest city, Mosul. Iraqi forces, along with Shiite militias and US-led airstrikes, have been struggling to regain control.

The remains of almost 600 Iraqi soldiers, believed to have been massacred last June by IS militants, were exhumed at the Speicher military base in Tikrit earlier this week.

It has been nearly a year since Islamic State's claimed execution of 1,700 "Shia members of the army." The jihadists gained control of Tikrit last June. In April, Iraqi forces managed to recapture the town, which gave the state's forensic experts an opportunity to start exhuming mass graves.
You can share this story on social media: