​British film actor fighting ISIS in Syria asked to leave, called 'aggressive piece of s**t'
Published time: 11 Jun, 2015 15:57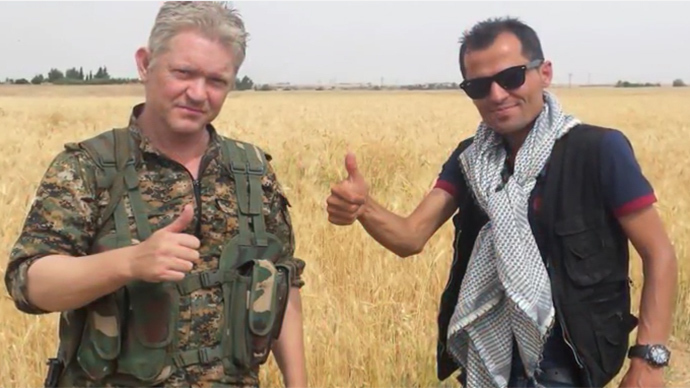 A British-American film actor fighting Islamic State (IS, formerly ISIS/ISIL) in Syria has denied he is disrupting Kurdish resistance fighters after an American ex-marine accused him of being aggressive and mentally unstable.
Michael Enright, who played a deckhand in Pirates of the Caribbean: Dead Man's Chest, joined a group of Westerners fighting alongside Kurdish forces earlier this year.
The Hollywood actor who has worked with Tom Cruise and Anne Hathaway, was attacked on Facebook last week for being the "biggest piece of s**t that ever walked in rojava," a region in northern Syria.
READ MORE: US considers opening more military hubs in Iraq to fights ISIS
READ MORE: Nearly 600 'martyrs' of ISIS massacre exhumed from mass grave in Iraq
READ MORE: Jihad 'mafia': ISIS draining Al-Qaeda recruits, top clerics complain
Former US marine Jordan Matson, who is also fighting against IS alongside Kurdish militia, said Enright was in danger of being killed by Westerners or Kurds if he isn't removed from the front line.
In a scathing criticism of the British actor, Matson said "the mentally unstable actor who is in rojava is in danger of being killed by one of many Westerners and kurds who want to bury him [sic]."
The marine, who acts as a spokesman for Western fighters in the region, went on to accuse Enright of trying to sell his story to the media immediately after arriving in Syria.
He said the actor had been kicked out of four different fighting units and asked to leave twice by the People's Protection Units (YPG).
Matson ends his tirade against Enright by writing in capital letters: "The State Department needs to send someone to receive him before you have the first US death in Syria."
Enright has strongly denied the claims, insisting it was internet "tittle-tattle."
Speaking to CNN, the film actor said: "I've not been asked to leave by four generals, I've not put a gun in my mouth or wanted to kill myself, I've not been threatened in any way by the Kurds."
"I love the Kurds and the unit I'm in is the best – it's something about being in a situation like this [that] brings out something very special, definitely, in me and in the lads that I could never replicate in civilian life."
Enright also denied he was writing a film script about his experience and that he was interest in self-promotion.
"This is about the evil that is called ISIS and exterminating it from the face of the earth," he said.
"It's about substantial things, real things."
A US State Department official confirmed American citizen Keith Broomfield died fighting IS in Syria last week.
There are thought to be around 100 Western volunteers fighting IS alongside Kurdish forces, according to the BBC.
More than 500 Britons, meanwhile, are believed to have joined IS.