Nearly 600 'martyrs' of ISIS massacre exhumed from mass grave in Iraq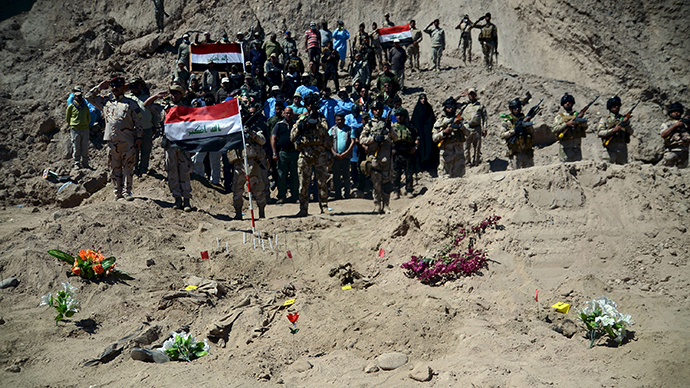 The remains of almost 600 Iraqi soldiers believed to have been massacred last June by Islamic State militants have been exhumed at the Speicher military base in Iraqi Tikrit, the country's minister announced.
"The remains of 597 Speicher martyrs have been exhumed," Iraq's human rights minister Mohammed al-Bayati said told reporters.
It has been nearly a year since Islamic State (IS, formerly ISIS/ISIL) claimed to have executed 1,700 "Shia members of the army" after its takeover of Tikrit on 12 June 2014.
In what was assessed by Human Rights Watch (HRW) as "crimes against humanity," IS launched an attack on Camp Speicher airbase near Tikrit, 140 kilometers northwest of Baghdad.
READ MORE: Tikrit mass grave may contain bodies of 1,700 Iraqi soldiers killed by ISIS
Hundreds of captured Iraqi soldiers, mostly Shiite recruits from the base, were summarily killed.
The IS group posted videos and pictures of the killings of Iraqi soldiers serving at the former US base. According to reports, images and videos show victims were lying in trenches with their hands tied. Some pictures showed militants shooting at the men.
The soldiers were reportedly executed one by one. Some of them were pushed into the Tigris River, while others were buried in mass graves in different locations.
In April, Iraqi forces managed to recapture Tikrit, which gave the state's forensic experts an opportunity to start exhuming mass graves. They concentrated their efforts on eight locations inside Tikrit's complex of presidential palaces, where the killings are believed to have occurred, according to Kamil Amin, from Iraq's Human Rights Ministry.
Forensic scientists expected a "huge number of bodies to be unearthed."
At the end of May, when another 470 bodies were found at four burial sites, Health Minister Adila Hammoud described the exhumation process as "complicated."
"There were several layers of bodies all piled on top of each other," he said. "It's a huge case. It takes a lot of work to identify the victims."
Islamic State, who now controls vast territories in Iraq and Syria, launched a massive PR campaign posting videos of executions on the internet, as well as other propaganda.
You can share this story on social media: