​'Elective dictatorship': Osborne to enshrine Victorian ethos in Tory fiscal policy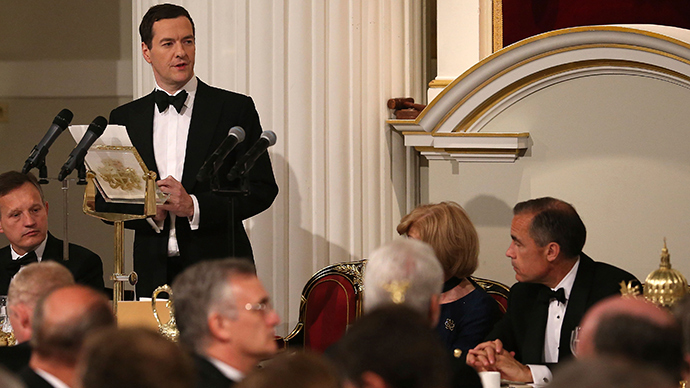 Chancellor of the Exchequer George Osborne unveiled the return of Victorian values on Wednesday, as he outlined plans for near-permanent austerity in a bid to slash the state's deficit.
The chancellor used his annual Mansion House Speech to announce the introduction of legislation to force future governments to run a budget surplus.
The move will require further drastic cuts to public spending, following five years of harsh austerity that has seen inequality soar in the UK.
Osborne declares class warfare | Tax Research UK https://t.co/9ebMCmCfmN The Mansion House speech is about entrenching the rights of wealth

— Richard Murphy (@RichardJMurphy) June 10, 2015
The plans would compel future governments to spend less than they drum up in taxes during times of economic stability.
While the legal changes would allow for some borrowing in exceptional circumstances, tax revenues would be expected to cover state infrastructural investment and day-to-day government spending.
'Permanent debt bubble'
Parliament is expected to vote on Osborne's proposals later this year.
Speaking to RT on Wednesday, British economist James Meadway said Osborne's proposed legislation would condemn Britons to a "permanent debt bubble."
"That's the only way to keep the economy moving if the government is hell-bent on running a surplus," he said.
Meadway, a senior economist at Britain's New Economics Foundation (NEF), stressed the government's surplus is derived from ordinary Britons' taxes.
"Effectively we will be handing money over to the government that we could have spent ourselves, and then the government will be sitting on it. Unless we borrow money to compensate, that is recipe for permanent stagnation," he said.
BREAKING: Leaked presentation video for Chancellor's #MansionHouseSpeech > https://t.co/ul1Cflrlqp

— Positive Money (@PositiveMoneyUK) June 9, 2015
Meadway's work at NEF focuses on developing a new economic model for Britain, in the wake of the 2008 financial crash and ensuing austerity.
On the question of whether Osborne's legislation could be overturned by subsequent governments, Meadway said the law would be easy to repeal "in theory." He insisted, however, no future government should observe it.
Meadway predicted the law "will collapse the next time a government faces a major recession," something he said is "increasingly likely to happen under Osborne's watch."
"The aim here is to try and fix the politics of the UK, rather than to fix the economy – in the sense that Osborne wants to set the terrain of any future argument against state expenditure," he said.
The Labour Party, leaderless and still reeling from its defeat in May's general election, will have to decide whether it wishes to support the chancellor's tough spending plans.
The party's general election pitch focused heavily on running a surplus on daily spending. However, it took a softer approach to borrowing, saying it would borrow to finance public investment schemes.
This austerity-lite approach would be dismissed under Osborne's spending plans, which critics dub the harshest since World War II.
'An elective dictatorship'
Osborne detailed his proposed legislation at a lavish dinner in central London on Wednesday.
His address, known as the Mansion House Speech, kicked off at 8.30pm BST. The yearly Bankers' and Merchants' Dinner was hosted by Lord Mayor Alan Yarrow, and was attended by Osborne, the governor of the Bank of England, Mark Carney, and a slew of top politicians and financiers.
In his dinner speech, the chancellor harnessed the Conservative electoral victory as a platform to plough ahead with his "long-term economic plan."
Ironically, many economists and politicians suggest his proposals are shrouded in short-termism.
Gideon Osborne believes Govt is too tough on banks & will use Mansion House speech to signal new leniency to the City http://t.co/9352WoI0OI

— Move Your Money UK (@moveyourmoneyuk) June 6, 2015
"The result of this recent British election – and the comprehensive rejection of those who argued for more borrowing and more spending – gives our nation the chance to entrench a new settlement," Osborne said.
The chancellor added that he wishes this settlement to be accepted across the "political spectrum." He will argued that "without sound public finances, there is no economic security for working people."
Osborne insisted "the people who suffer when governments run unsustainable deficits are not the richest but the poorest."
He called for cross-party backing of the planned legislation, saying "in normal times, governments of the left as well as the right should run a budget surplus to bear down on debt and prepare for an uncertain future."
Fiscal rules, productivity, sale of state owned assets, bank levy. Big Mansion House speech ahead for the Chancellor tonight.

— Nick Faith (@nickfaith82) June 10, 2015
Irish economist Michael Burke said the chancellor's proposed legislation is "foolish."
"No British government can bind it's successors to anything as, without a constitution, we live in 'an elective dictatorship,' as a Lord Chancellor once said," he told RT on Wednesday.
Burke, an anti-austerity campaigner who resides in Britain, said the move is also "economically stupid" because it will seek to slash deficits with spending cuts.
"This has already been shown not to work. The deficit reduction we have had to date had come through growth, not cuts," he said.
NEF's James Meadway expressed hope Osborne's spending plans would lack cross-party support.
"The real problem appears if opposition parties go along with this nonsense, rather than treating it with the contempt it deserves," he said.
Osborne also outlined government plans to sell its stake in the 79- percent nationalized Royal Bank of Scotland (RBS) at Wednesday's dinner. The move has angered economists who warn it could cost UK tax payers up to £26 billion.
In the wake of the 2008 financial crisis, the British government bailed out the scandal-ridden bank. The bailout cost British taxpayers £46 billion.