Republican dissidents developing anti-tank weapons, Northern Ireland officials claim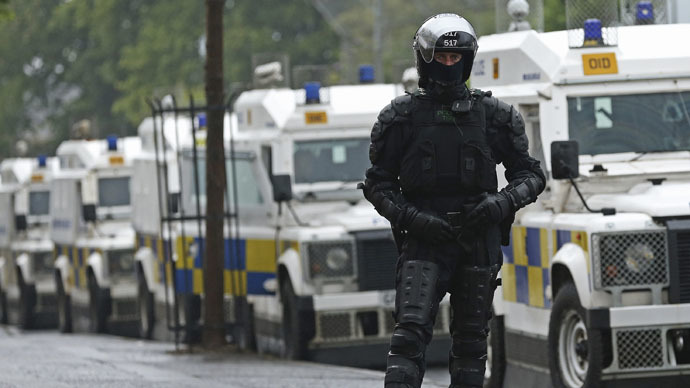 Irish republican dissidents associated with the IRA have allegedly developed an anti-tank weapon which is capable of spearing armored vehicles, Northern Irish security officials claim.
Security officials said they uncovered evidence that renegade engineers had been developing technology to increase dissidents' capability to commit terror attacks.
Attacks have left security agencies in both Northern Ireland and the Republic of Ireland on edge over the possibility of further incidents.
Counter-terror police suspected republican groups were making significant technological advances. They were able to confirm these fears after forensic examinations of the dissident hideouts.
A senior officer said on Sunday: "This is a very worrying development and there are serious concerns on both sides of the border.
"The seizures have undoubtedly delivered a major setback to their deadly plans and the operation must be regarded as one of the most important strikes against the dissidents for several years.
READ MORE: Smoking gun: Missing Loyalist murder weapon found on loan to Imperial War Museum
READ MORE: Terror threat: Belfast most dangerous city in Europe – risk analysts
"But it also demonstrates that, despite seizures and arrests in the past, they are continuing to develop their bombing capacity and manufacture home-made weapons," he added.
Police evidence revealed the "engineering" section of one dissident group called ONH – Oglaigh na hEireann – had created a rocket-propelled anti-tank weapon which would allow them to inflict more damage than their previous mortars.
The revelations follow claims from a report in May that said Belfast faces the highest risk of terrorism of all European cities.
Commenting on the study, counter-terrorism and security expert Charlie Bird, who worked for the Diplomatic Service and alongside the military during the 2003 Iraq invasion, told RT that the risk in Northern Ireland is unique because of the factional nature of conflict between loyalist and republican groups.
"[They] normally attack either each other or security forces" rather than carrying out "indiscriminate attacks" against the public, said Bird.
Given the target readership for the terror-threat study was corporate interests, its usefulness "very much depends on the gloss they put on the figures," he cautioned. The findings "seem to run counter to the government narrative," which currently focuses heavily on the threats posed by Islamist terrorism.
The Belfast Telegraph reported that since a number of unsuccessful attacks, the groups have been attempting to improve their weapons capability.
Security officials claim that for every successful attack, four are stopped by counter-terror police.
Further evidence suggested groups are working on remote detonation weapons for improvised explosive devices.
You can share this story on social media: