​Smoking gun: Missing Loyalist murder weapon found on loan to Imperial War Museum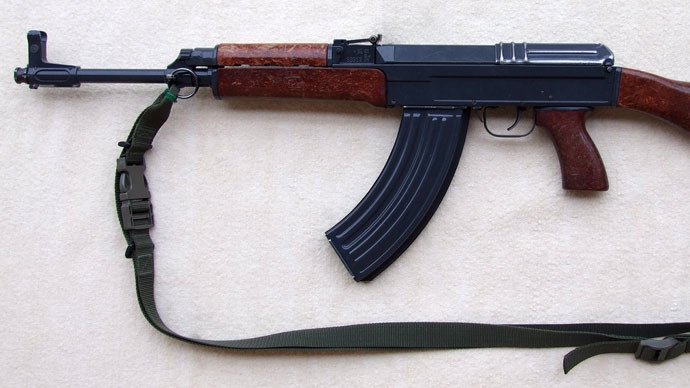 An assault rifle used in seven unsolved killings during the Northern Irish Troubles has been found in a public display case in London's Imperial War Museum.
The VZ58 assault rifle, which is of Czech manufacture and outwardly resembles the iconic Kalashnikov, was used in the 1992 killings of five Catholics, including one 15-year-old, at a betting shop in Belfast.
It has also been linked with the killing of two men in 1988.
Families of those murdered have spoken of their shock at discovering the missing rifle's location, having been told by Northern Irish police that the weapon had been "disposed of."
Billy McManus, whose father was killed in the betting shop attack, told the Times newspaper: "I am absolutely shocked that a gun connected with so many deaths was there on display for anyone to come and see at the Imperial War Museum in London.
"It should be here in a secure place so that it can be used for ballistics."
"Why would somebody let something so important be shipped to England to be put on display? What does that say about their treatment of the case? They just don't care."
According to a Northern Ireland police spokesman, who also said the service welcomes an investigation, the weapon is being returned for appropriate testing.
The revelation emerged during a BBC 'Panorama' documentary into allegations of collusion between Loyalist paramilitaries and British security forces during the Troubles.
READ MORE: Terror threat: Belfast most dangerous city in Europe – risk analysts
READ MORE: Former Provisional IRA commander shot dead in Belfast
READ MORE: Iraq War commander's security firm probed over alleged $135mn fraud
In a statement, a spokesperson for the Imperial War Museum said: "IWM believes that we provide an appropriate context for the display of items used in conflict.
"This object has always been displayed in the context of a wider story which sets it against other items from both sides of the Northern Ireland conflict."
RT spoke to investigative journalist Iain Overton, who is also Director of Investigations and Policy at the NGO Action on Armed Violence (AOAV) and author of a recent, critically acclaimed book on small arms titled 'Gun Baby Gun'.
Asked if he thought the rifle's unusual history might reflect more than just a bureaucratic failure, he said its trip from Belfast to London may indeed have been the end result of the "purposeful arming of pro nationalist groups" by the British security services.
The existence of the practice, he said, had been well documented in investigative research like that carried out by journalist and campaigner Anne Cadwallader and was proven to have been carried out on a substantial scale.
"The trouble is that once you give a gun over to a criminally minded organization you can't work out what happens to it next."
He pointed out that a rifle of the same make was also used in a 1994 County Down pub attack.
"The same weapon had reportedly been used in 1993 in another attack on a van carrying Catholic painters to work in Belfast, in which one man, a father of five, died and five others were wounded."
"The trouble with all of this, though, is that the evidence surrounding the pub shootings was heard under the terms of a controversial British secret justice bill."
"This allowed British government lawyers to keep their evidence secret, disclosing it only to a judge behind closed doors, where it cannot be examined or challenged by other lawyers.
"So we may suspect a great deal but – as with so much in this opaque world of gun smuggling – we may never know the truth."
RT also asked what happens to weapons like the Self-Loading Rifle (SLR) when they become obsolete and replaced by newer weapons – the SA80 assault rifle in the SLR's case.
"Many would be destroyed," Overton said, "or kept in major hidden stockpiles."
"I don't know the figures of UK stockpile destruction but I am sure they are in line with a transition to the SA80."
The disappearance of the rifle echoes the mysterious discovery in 2000 of an SLR by soldiers of 1st Battalion, the Parachute Regiment in Sierra Leone, which was in the same unit's possession on Bloody Sunday on January 30, 1972.
It was reported in 'Rules of Engagement,' the memoir of Colonel Tim Collins, formerly of the Royal Irish Regiment and the SAS.
The Bloody Sunday incident saw 15 peaceful Northern Irish protestors killed by paratroopers in the Bogside area of Derry.
The subsequent Saville Inquiry into the massacre was informed the weapons used had all been destroyed. Yet an SLR matching the serial number of one in Parachute Regiment's possession on Bloody Sunday was discovered in the hands of the notoriously savage West Side Boys militia in Sierra Leone during the rescue of captured British soldiers by paratroopers and Special Forces.